- Geneva Motor Show 2018 -
The 88th edition of the Geneva Motor Show was again no exception and allow the visitors to see even what he had not expected. In 2018, there was a wide variety of exclusive cars and original concept cars and prototypes. The McLaren 789 hp Senna was part of the 70 World Premieres by 180 exhibitors even thought the 500 intended products were already sold out. Ferrari, as an answer, unveiled the 488 Pista with 720 hp while Porsche exhibited the 520 hp 911 GT3 RS. Zenvo introduces the latest 1177 hp TSR S while a new Company called Corbellati wants to enter the high performance market with 1800 hp bi turbo 9 Litre engine. American high performances specialist John Hennessey introduces with Shell/Penzoil the 1600hp/1360 kg twin turbo V8 Venom F5 intended for reaching 300 mph/480 kph.
McLaren try to steale the show with a track only prototype version of the Senna called Senna GTR for which it intends to produce 75 examples. It is about time to consider allowing those track only prototypes like McLaren Senna GTR, Mercedes Project One, Ferrari FXX K Evo or Aston Martin Valkirie AMR PRO and other Pininfarina hydrogen fuel cell H2 Speed to participate in official endurance races so that the public can share the fun.
In spite of the absence of Opel, Infiniti, DS and Chevrolet/Cadillac, the 106,000 square metres of exhibition space at Palexpo was fully booked. Aston Martin had seized on this opportunity to enlarge their stand by taking over the space from Opel. Jaguar and Land Rover will also enlarge their stands by taking over the space normally attributed to Citroën. This manufacturer will re-join Peugeot on the other side of the hall, which will reunite the PSA brands.
All major brands exhibited electric power concepts sometime not for the first time. Volkswagen entered the exhibit with the electric limousine concept I.D. Vizzion alongside the Volkswagen I.D. or the I.D. Buzz. Toyota showed a complete collection of concept introduced at Tokyo or at the CES Las Vegas like the Toyota Concept i , the iRide or the hydrogen fuel cell Fine Comfort Ride. Jaguar above all made its show by presenting for the first time the production version of the electric SUV i Pace developed exclusively for the electric propulsion. Porsche continue to present prototypes of full electric project with the Mission Cross . Seat introduce a separate brand Cupra with a project eRacer for an electric touring racing car awaiting competitors for a new challenge.
Rimac is the exception as this small company demonstrated the capability to develop and produce electric power train components and one of the most powerful berlinetta.
The Design Studio and the Coachbuilder most often originated from Italy, were particularly present along the alleys. A few of them like GFG Giugiaro father and son introduced project of chinese sedan with electric propulsion just like LCVHI or Hybrid Kinetic and Pininfarina. Chinese Techrule comes with a track only version of its REN electric prototype with gas turbine range extender. Aston Martin introduced a Design Study for a electric four doors Lagonda Vision. Touring Superleggera presented a limited edition Maserati Sciadipersia. Manufattura Automobili Torino introduced a limited edition New Stratos for 25 examples.
Autonomous driving remains one of the most up to date topic and now electric autonomous urban shuttle were proposed by Renault with the EZ GO or Icona and the Nucleus. The subject of horizontal and vertical autonomous driving comes with a new edition Pop Up Next now including Audi together with Ital Design or Airbus. We still wonder why the capsule would travel on the road and wait a traffic jam for a vertical movement with a giant drone. There is a risk of traffic jam in the air when too many PopUp would be involved.
A wide selection of concept were defined with autonomous capabilities like the Mitsubishi eEvolution, the Nissan iMX or the Lexus LF1 Limitless and Volkswagen I.D. Vizzion or Toyota iConcept.
We are introducing here a wide selection of automobiles exhibited at Geneva Palexpo
- McLaren Senna
The McLaren Senna has been designed, engineered and developed with single-minded purpose: to be the ultimate McLaren track-concentrated car for the road. The 500 examples intended for production were declared sold out before the World Premiere at Geneva.

The McLaren Senna Carbon Theme (shown below) by McLaren Special Operations (MSO) is one of five themes developed by MSO for a car that has been the centre of attention since the first images were released in December.

The Visual Carbon Fibre exterior is the most obvious individual feature of the McLaren Senna Carbon Theme by MSO. Comprising 67 parts, the full body set takes almost 1,000 hours to produce. Solar Yellow detailing on the sill exteriors, rear wing and front active aero blades – a process that accounted for almost 250 hours of MSO time – combines with Laurel Green brake calipers in recognition of the helmet colours of the legendary Brazilian Formula 1 racing driver.
- Ferrari 488 Pista 2018
The new Ferrari 488 Pista introduced at Geneva is a road version of the Ferrari 488 Challenge and 488 GTE.

Technically, the Ferrari 488 Pista encompasses all of the experience built up on the world's circuits by the 488 Challenge and the 488 GTE. For over 25 years, Maranello has been organising the most prestigious of all one-make championships, the Ferrari Challenge, in which over 100 drivers split into three continental series do battle at the wheel. Last year saw the introduction of the 488 Challenge, the first model in the series to be equipped with a turbo engine. The Ferrari 488 GTE is instead the car fielded in the FIA World Endurance Championship, the pinnacle of GT racing, where it has won two consecutive GT Manufacturers' titles and no less than five titles in total since the championship's inception in 2012. Thanks to wins in both the Pro and Am categories, the 488 GTE has taken no fewer than 35 out of the 50 races run to date.

The new car's engine adopts numerous solutions from that of the 488 Challenge and its power output has been increased to 720 cv, some 50 hp over the Ferrari 488 GTB power level. It is also lighter by 18 kg through materials substitution.

The inverted radiator cooling system is also derived from the Challenge with the radiators raked rearwards (rather forwards as in the 488 GTB), improving cooling and maintaining optimal performance levels even in high thermal stress situations. The car's aerodynamics are derived from both the 488 GTE and from Formula 1, specifically the S-Duct at its front, the rear spoiler and diffuser profiles which boost efficiency by 20% compared to the 488 GTB.

The need for efficient downforce resulted in the whole of the front of the car being completely redesigned, particularly the bumpers and bonnet. One innovative Formula 1-derived solution in particular stands out: the S-Duct, which is being used for the very first time on a road car. The air from the intake on the front bumper passes through an aerodynamic duct with calibrated sections and exits through a vent on the bonnet, creating downward force over the front axle.

The standing 0-100 kph is announced in 2,85 seconds and maximum speed is claimed over 340 kph.
Ital Design Zerouno Duerta
Created in 2017 and premiered worldwide at the Geneva International Motor Show, Automobili Speciali is the new Italdesign brand associated with the production of exclusive ultra-low series cars intended for collectors. The Zerouno Duerta represents phase two in Italdesign's strategic plan for creating iconic, high performance products that collectors will treasure.

"One year later, Zerouno has proved successful," explained Jörg Astalosch, CEO of Italdesign. "All five vehicles were sold in just a few months after they were officially presented, showing that car and design enthusiasts continue to desire exclusive products of this kind.

Completely designed, engineered and built at the Moncalieri plant to remain faithful to Italdesign's tradition, the Zerouno Duerta shares many features with the coupé version, although the upper part of the chassis has been redefined and redesigned to guarantee performance, quality and safety standards in the open version as well.

"The open version was already planned when we first presented the Automobili Speciali brand last year," said Filippo Perini, Head of Design at Italdesign. "The positive feedback we have received in recent months has only strengthened our convictions. The Zerouno Duerta — where 'duerta' in Piedmontese dialect means 'open' — shares many features of the coupé, including its supercar-like performance."

Related article Ital Design GT Zero Concept 2016 for further details and illustrations.
- Porsche 911 GT3 RS
The Porsche motorsport department has presented Weissach's latest treat at the Geneva Motor Show: the 911 GT3 RS with motorsport chassis and 383-kW (520-hp), four-litre, high-speed naturally aspirated engine. The new high-performance sports car is based on the 911 GT3, which has been refined still further to combine the performance-enhanced engine with a running-gear setup that features re-calibrated rear axle steering designed for maximum dynamics and precision. The 911 GT3 RS accelerates from 0 to 100 km/h in 3.2 seconds, reaching a top speed of 312 km/h. Following the launch of the 911 GT3 and the 911 GT2 RS, this latest Porsche release represents its third GT road-approved sports car within a year.
- Hennesey Venom F5
Hennessey Special Vehicles, Shell and Pennzoil have teamed up to bring the Hennessey Venom F5 to this World Premiere at Geneva. The hypercar is designed and built by Hennessey with the goal of being the fastest road car on earth. John Hennessey, company Founder and CEO, is known for making fast cars faster and consistently reconstructs vehicles from automotive enthusiasts and turns them into coveted raw power machines. The Venom F5 possesses the same raw power (and then some), but this vehicle is unique given that it was built from the ground up. "We partnered with Shell and Pennzoil to defy all odds and to create a vehicle that will be the fastest. Period." said John Hennessey. "The Venom F5 combines a very low coefficient of drag of 0.33 and a curb weight of less than 3,000 lbs (1,360 kg). Pennzoil Synthetics will be pulsing through the twin turbo V8 engine that will deliver over 1,600 bhp. It's no question of if we will break 300 mph but a question of when."
- Lamborghini Hurakan Performante Spyder
"The Huracán Performante Spyder takes the zenith of Huracán developments, combined with the enhanced emotion of driving a convertible," says Stefano Domenicali, Chairman and Chief Executive Officer of Automobili Lamborghini. "The Huracán Performante already provides the most heightened feedback and emotion from road and track, and the Huracán Performante Spyder puts the driver even closer to asphalt and air, as well as the unique resonance of a naturally-aspirated Lamborghini engine."

With its inimitable 5.2 l V10 naturally-aspirated engine, the permanent four-wheel drive Performante Spyder accelerates from 0-100 km/h (0-62 mph) in 3.1 seconds, 0-200 km/h (0-124 mph) in 9.3 seconds, and with a top speed of 325 km/h matches its coupé stablemate. Braking from 100-0 km/h is mastered in 31.5 m.

Like the Performante coupé, the Spyder outputs 640 hp (470 kW) at 8,000 rpm, producing 600 Nm of torque at 6,500 rpm, and with more than 70% of torque already available at 1,000 rpm. With a total dry weight of just 1,507 kg, the Spyder returns a weight-to-power ratio of 2.35 kg/hp, with weight distribution front/rear of 43/57%.


See Lamborghini Hurakan Performante for further details and illustrations.
Manufattura Automobili Torino New STRATOS
New Stratos, the modern re-interpretation of the Italian icon of the '70es, whose development and built is due to the enthusiasm of the German Entrepreneur Michael Stoschek and his son Maximilian, will become an exclusive limited run. New Stratos GbR has licensed Manifattura Automobili Torino (MAT) to the manufacturing and sale of 25 New Stratos cars, using the same design and technology of Michael Stoschek's iconic car.

The striking design of the New Stratos will follow the lines of its world-famous predecessor offering a new exciting interpretation of the most famous and successful rally car of the past. Its striking design, the engine delivering over 550HP, the specially tuned suspensions and the ideal balance will offer an experience that no other supercar can assure on tight and twisty roads
Toyota GR Supra Racing Concept
A compact, two-door car, the GR Supra Racing Concept has a pure front-engine/rear-wheel drive configuration and makes use of advanced lightweight materials in its construction.
Created by TOYOTA GAZOO Racing, the concept perfectly expresses the "fun to drive" quality that is intrinsic to Toyota's commitment to making ever-better cars. The large "90" race number on its doors is a historical reference to Supra's codename and a big visual clue to the fact that this concept heralds Supra's return in a fifth generation.
Its development is true to the belief of Kiichiro Toyoda, founder of the car company, that participation in motorsport provides the challenges of performance and durability that can directly help develop better cars, while at the same time generating interest and excitement among motoring fans.
Zenvo TSR-S
Zenvo Automotive A/S ('Zenvo'), the Danish high-performance automotive company, has today unveiled its new model at the Geneva International Motor Show. The Zenvo TSR-S is positioned between the company's TS1 GT car and its racetrack-bred sibling, the TSR, combining phenomenal on-road capabilities with ultimate exclusivity.
The TSR-S is a street legal version of the TSR – hence the 'S' in the model name. Featuring an innovative and striking new active multi-axis Centripetal Wing and an in-house developed twin supercharged V8 engine, production of the TSR-S is now underway within Zenvo's limited production of just five cars a year.
Peter Van Rooy, Zenvo Marketing Director, explains: "Like all of our cars, the Zenvo TSR-S is 100% Danish-designed and hand-built in an extremely limited number. Each car is fully customisable and built to order, tailored according to the precise specifications of the discerning client."

Technical highlights TSR-S

Configuration: 2-door, 2-seat, mid-engine, rear wheel drive sports car
Body: All carbon fibre
Chassis: Lightweight steel/aluminium semi-monocoque, front and rear racing steel sub-frames.
Engine: Zenvo 5.8-litre V8 flatplane high revving racing engine with Twin Centrifugal Superchargers and sequential fuel injection.
Max power: 1177 bhp
Transmission: Paddle shift 7-speed gearbox with helical-cut dog gears
Top speed: 325 km/h (202 mph) electronically limited
Acceleration 0-100 km/h (0-62 mph) in 2.8 seconds, 0-200 km/h (0-124 mph) in 6.8 seconds
Length: 4815 mm
Width: 2038 mm (excluding door mirrors)
Height: 1198 mm
Wheelbase: 2906 mm
Ground clearance: 95 mm (can be raised to 145 mm thanks to ride height adjustment, for added clearance of kerbs and speed humps)
Dry weight: 1495 kg (in ultimate specification)
- McLaren 720S MSO Atlantic Blue
Combining the deepest of deep blue paint finishes specially formulated for the car with a classic Saddle Tan leather interior, the McLaren 720S in Atlantic Blue by MSO (McLaren Special Operations) presents the dynamism of the McLaren Super Series wrapped up in a timeless, luxury-accented allure. This unique automobile was commisioned specially for the 88th Geneva International Show with extreme performance combined with an accent on luxury.
Few of the nearly 1,500 McLaren 720S delivered since launch have not borne at least some MSO influence.

See McLaren 720S 2017 for further details and illustrations.
Corbellati Missile Prototype
The Corbellati family is for 70 years creators of jewels, artists, art enthusiasts. Today the last generation, passionate with sports cars, has embarked on a new venture full of challenges to continue in the name of family tradition. The claimed goal is to create a car with unique performance and unique design intended to become the fastest in the world . Behind this target there are months of calculations on the aerodynamics to get very little drag force and the necessary down force to reach and exceed 500 km / h. The heart of the car is its other strength to achieve the goal, in fact the V8 9-liter biturbo releases 1800 horsepower and 2350Nm of torque, creating together with the aerodynamics the conditions to be a unique car.
The first prototype was exhibited at Geneva with lenght 467 cm, width without mirrors 204 cm, height 117 cm and wheelbase 285 cm. The chassis and bodywork are made of carbon fibre.
Alpine A110 Pure and A110 Legende
Following the successful introduction of the A110 Première Edition, Alpine announces three new versions of its lightweight sports car. The A110 Pure and A110 Légende are the production series versions that broaden Alpine's scope, while the A110 GT4 competition car, developed by Signatech, will write the next chapter in Alpine's motor racing story.
Sharing their technical specifications with the A110 Première Edition - which was limited to 1,955 examples and sold out within five days of going on sale - the A110 Pure and A110 Légende offer two distinct characters. The Pure is the A110 at its most driver-focused, the closest in spirit to the original A110 Berlinette that won the Monte Carlo Rally in 1973. The Légende's grand touring credentials and everyday usability, meanwhile, are underpinned by its six-way adjustable comfort seats and higher equipment level.
The Pure and Légende are based upon the same lightweight and exceptionally strong aluminium chassis as the Première Edition, which forms the basis for the A110's trademark agility and handling precision. Mounted immediately behind the two-seater cabin the turbocharged 1.8-litre four-cylinder engine, with a peak power output of 252PS, delivers thrilling performance, while double wishbone suspension ensures all versions of the A110 exhibit the dynamic poise and responsiveness of a true Alpine.

Related Article ALPINE A110 2017
-
Aston Martin Track Only Valkyrie AMR PRO Prototype
Aston Martin has proposed at Geneva the world debut of the Aston Martin Valkyrie AMR Pro - the sensational track-only evolution of the marque's spectacular hypercar. The hybrid V12 powertrain will develop in excess of 1100bhp. The all-new aerodynamics generate more than 1000kg of downforce.

Full technical details of the Valkyrie AMR Pro will be revealed in due course, but those headline figures that can be disclosed provide a remarkable statement of intent. Key to the car's unprecedented track performance are its lightweight construction and high-downforce aerodynamics - a combination that will result in a car that weighs 1000kg, yet is capable of generating more than its own weight in downforce.

To achieve this remarkable figure all the Aston Martin Valkyrie AMR Pro's aerodynamic surfaces have been revised in the pursuit of significantly increased downforce. Most obvious changes are wider bodywork and much larger front and rear wing elements, which together with revised active aerodynamic control strategies tailored for the demands of track driving. In order to save weight this bodywork uses a lighter construction of carbon fibre. Likewise the removal of items such as the heater/de-mister blower and infotainment screens fitted to the road car, and through the fitment of new ultra-lightweight track-specific components such as a polycarbonate windscreen (with heater elements) and side windows, carbon fibre suspension wishbones, moulded race seats and a lighter exhaust system ensure the AMR Pro hits its 1000kg weight target.

Calibration changes to the 6.5-litre naturally-aspirated V12 engine's emission control systems and re-programming of the Energy Recovery System control software will result in a combined power output of more than 1100bhp - more than the Valkyrie road car and a figure than comfortably exceeds the magic 1:1 power-to-weight ratio. That's to say more than 1bhp to propel every kilogram of mass.
Just 25 Aston Martin Valkyrie AMR Pros will be built. Deliveries are expected to commence in 2020. All cars are sold.

See Aston Martin and Red Bull Concept 2016 AMR RB 001 for further details and illustrations.
-

McLaren Track Only Senna GTR Prototype
Unveiling the McLaren Senna GTR Concept at the Geneva International Motor Show, McLaren Automotive CEO, Mike Flewitt, confirmed that up to 75 examples of the most extreme McLaren car ever will be hand-assembled in Woking, England, during 2019.
"Excelling on the track underpins the heritage of the McLaren brand and is as important and relevant today as it has ever been," explained Mike Flewitt. "The track-only McLaren Senna GTR will have more power, more grip and more downforce – up to 1,000kg – than the McLaren Senna and post even faster lap times; the very limited number of customers who secure this car will be buying the closest experience you can get to a race car without actually lining up on a circuit grid."


Based around the same carbon fibre Monocage III structure as the McLaren Senna to ensure the core strength and rigidity needed for a top-flight track car, the McLaren Senna GTR will be similar in weight to the 1,198kg lightest dry total of the road-legal McLaren Senna. With more power and greater torque from the 4.0-litre twin-turbocharged V8 engine than the 800PS and 800Nm developed in the road car – horsepower will increase to at least 825PS – the car will be faster than the 'standard' model in a straight line. The additional benefit of a race-style transmission, revised double wishbone suspension and Pirelli slick tyres – together with up to 1,000kg of downforce – will ensure that the McLaren Senna GTR will also post the quickest McLaren circuit lap times outside Formula 1.
-Alpine A110 GT4
Developed by Alpine's motorsport partner Signatech, meanwhile, the new GT4 racer is the ultimate expression of the A110's remarkable agility and track-bred performance. Alongside the A110 Cup it becomes the second racing version of the A110. With increased engine power and aerodynamic downforce compared to the A110 Cup, the A110 GT4 will see Alpine return to competition on the racetrack against the world's most prestigious car makers.
A small number of A110 GT4s will race throughout Europe during the second half of 2018 before the car goes into full-scale production ahead of the 2019 season. All A110 GT4s will be campaigned by customer teams with factory support from Signatech. A unique part of the A110 racing car proposition is the option to upgrade an A110 Cup to GT4 specification using a kit of components
- Pininfarina H2 Speed hydrogen fuel cell track only prototype
The concept becomes reality. The H2 Speed, which was awarded the 2016 Concept Car of the Year Award and named Best Concept at the 2016 Geneva Motor Show, is preparing to go into production in a limited edition by Pininfarina. Only 12 units will be produced for speed and performance loving gentleman drivers who also respect the environment and are attracted at the same time by the exclusivity typical of a Pininfarina designed vehicle. The production version, as anticipated by the concept, will be the first high performance hydrogen racing car born out of the revolutionary technology experimented significantly on the track by Pininfarina's partner, GreenGT, a Franco-Swiss company that has been designing, developing and manufacturing clean and sustainable propulsion systems since 2008. The H2 Speed is opening a new era in automotive history. All the units, which will not be type-approved for road use, will be customised to the requests of each individual client, allowing them to experience the excitement of driving a real racing car on the track.

See Pininfarina H2 Speed Concept Car 2016 for further details and illustrations.
- Aston Martin Vantage WEC GTE-PRO
-
Built to comply with the FIA's strict GTE class regulations, the new Vantage GTE takes the road car's core design and dynamic capabilities to a whole new level through extensive optimisation of the powertrain, chassis and aerodynamics. Designed and engineered in-house at Aston Martin Racing's headquarters in Banbury, the project is led by Technical Director Dan Sayers, who also guided the design and development of the current V8 Vantage GTE – the car credited with 37 of the team's 51 international race victories, including two Le Mans 24 Hour class wins.

See Aston Martin Vantage GTE PRO 2018 for further details and illustrations.
AUDI-ITAL DESIGN-AIRBUS PopUp Next autonomous Urban Shuttle
At the Geneva Autosalon, Audi, Italdesign and Airbus have presented "Pop.Up Next", an entirely electric, fully automatic concept for horizontal and vertical mobility. In the distant future this vehicle could transport people in cities quickly and conveniently on the road and in the air, at the same time solving traffic problems. The dominant interior feature is a 49-inch screen, while interaction between humans and the machine is performed by speech and face recognition, eye-tracking and a touch function.
The ultra-light, two-seater passenger cabin can be attached either to a car module or to a flight module. Audi is supporting the project with know-how on battery technology and automation.
"Creativity is needed where new mobility concepts for cities and people's diverse needs are concerned. Italdesign is an incubator for innovative technologies and radical prototyping. Pop.Up Next is an ambitious vision that could permanently change our urban life in the future," says Dr. Bernd Martens, Audi Board Member for Procurement and President of Italdesign.


Italdesign develops future-oriented vehicle concepts for Audi and customers around the globe. Jörg Astalosch, CEO of Italdesign, says: "Various players will define the rules of urban mobility in the future. We are proud to collaborate with Airbus, the leading company in the aerospace industry, to investigate solutions for future mobility." Astalosch sees Pop.Up Next as a flexible on-demand concept that could open up mobility in the third dimension to people in cities. Italdesign is making use of a network of cities, universities and various stakeholders in order to better anticipate the future of mobility in cities.A first version of Pop.Up already had its premiere at the Geneva Autosalon a year ago.
Pop.Up Next is significantly lighter than its predecessor, and the interior has been redesigned. For more information on Pop.Up Next
RENAULT EZ-GO Autonomous Urban Shuttle
Renault EZ-GO: a vision of shared urban mobility
At the 2017 Frankfurt Motor Show, Renault presented its vision for personal mobility in the future with the SYMBIOZ concept: a large and architecturally-inspired hatch that is like an extension of the home. Its design, inside and out, fits around its technology – electric, autonomous, connected – to help win back some time and enjoy a new life experience on board.
EZ-GO addresses the other side of mobility in the future: shared, on demand and driverless. It's also an electric, connected vehicle, intended specifically for anyone's urban uses and needs. Its characteristics make it easy to use, for a ride alone, with family or a group of friends, or shared with other users, during safe and enjoyable trips.
The Renault EZ-GO is an autonomous electric urban shuttle project.
Passengers benefit from the vehicle's limited maximum speed, Renault's 4-wheel steering technology and a remote supervision system capable of taking over control if necessary. People in the vicinity enjoy the AD light signature, the messages on the light strips and sound signal warnings.
ICONA NUCLEUS Autonomous Hydrogen Fuel Cell Urban Shuttle
ICONA NUCLEUS Autonomous Electric Project with Hydrogen Fuel Cell Range Extender

Founded and located in Turin since 2010, Icona is a Automobile Research and Design Company with subsidiaries in Shangai and Los Angeles. Through its integrated partnership with sector leaders Tecnocad Progetti and Cecomp, also located in Turin, Icona offers a complete range of services for vehicle development, including styling, engineering, and manufacturing of style models, show cars and prototypes. Icona counts 120 employees of which 16 in Turin, 89 in Shanghai and 15 in Los Angeles. In 2017 Icona recorded revenues for 18 million Euros and a net profit of 1.4 million Euros.

The Icona Nucleus embodies Icona's vision for the future of mobility. First seen in 2015, the Icona Neo concept demonstrated a very tangible tomorrow for the electric vehicle. With its fully autonomous driving level five, the Nucleus jumps two generations ahead. Inside the vehicle, the absence of a driver does not only mean the absence of a steering wheel and a dashboard, but the opportunity for a new understanding of mobile living spaces, where the focus is no longer the road but the destination.

The mono-volume exterior is unlike any vehicle you have ever seen. The shape looks purposeful. The profile and surfacing look as though the vehicle was shaped to move efficiently and quietly through the air. Being fully autonomous, there is no side glass in the traditional sense, rather semi-transparent bodycolor panels that allow the occupants to see out from the vehicle but remain shrouded for privacy while traveling. The upper glass from windscreen to the complete roof is asymmetrical, divided into fully transparent and semitransparent glass, giving a distinct visual cue that this vehicle is something truly different.

The graphically asymmetrical body is divides by two portions marked by a diagonal line which crosses the roof from front right to back left, dividing the transparent and partly semi-transparent glass. Just one large entry is granted, to the right, on the safe side. It includes the main sliding door and the oyster roof opening to accommodate the passengers in a walk-in access.

With a length of 5.25 meters and a width of 2.12 meters, the Nucleus stands at 1.75 meters high on 27 inch wheels. Its slick aerodynamic design with full underbody diffuser and wheel arch aerodynamic blade extensions bring the CX to just under 0.22, a very good number that definitely helps its rolling resistance and energy consumption. Its in-wheel motor technology helps to optimize the space inside the Nucleus and its hydrogen range extender can bring the autonomy to 1200 kilometers.

 
-Jaguar I-Pace Electric SUV
"Where other companies talk about the future, we build it. We have torn up the rule book to create the newest member of the PACE family, the all-electric Jaguar I-PACE. With zero tailpipe emissions, no CO2 and no particulates, it moves us dramatically closer to our vision of a clean, safe and sustainable future."
Dr Ralf Speth, CEO Jaguar Land Rover

The Jaguar I-Pace is designed from the outset as an electric vehicle (EV), the I-PACE offers bold aero-efficient design, and interior space for five adults and luggage . It proposes electrifying all-wheel drive performance from twin Jaguar-designed motors with a combined 400PS and 696Nm delivering 0-60mph in 4.5s. The 90kWh Lithium-ion battery delivers up to 298 mile range1, with EV navigation to ensure range-optimised routing. 1 Based on European WLTP cycle. A bespoke EV aluminium architecture delivers Jaguar's most rigid body structure with 50:50 weight distribution.

With a state-of-the-art 90kWh Lithium-ion battery using 432 pouch cells, the I-PACE delivers a range of up to 298 miles (WLTP cycle). Owners will be able to achieve a 0-80 percent battery charge in 85-minutes using DC charging (50kW). The I-PACE will be available from 1 March 2018, in S, SE and HSE derivatives alongside a First Edition, all inspired by the design of the original concept.
Jaguar I-Pace Electric Racing Car Trophy
Jaguar has revealed a racing version of its I-Pace SUV, which will compete in its own one-make series alongside Formula E from 2018/19 onwards. The series of event is known as Jaguar I-Pace Electric Racing Car Trophy
-PORSCHE MISSION E CROSS TURISMO Concept
With the Mission E Cross Turismo, Porsche has unveiled the concept study of an electrically driven Cross Utility Vehicle (CUV) at the Geneva Motor Show. This car has many talents and is aimed at people who like to spend their free time travelling, playing sport and pursuing other outdoor activities. Thanks to all-wheel drive, every ski slope is easy to reach, while the flexible interior creates space for all kinds of sports equipment and modern load-carrying systems facilitate the transport of surfboards or a Porsche e-bike.

The strengths of the four-door four-seater include an emotional design with striking off-road elements as well as an innovative display and operating concept with touchscreen and eye-tracking control. Measuring 4.95 metres in length, the concept vehicle has all-wheel drive and an 800-volt architecture, prepared for connection to the fast charging network. The 800-volt architecture of the vehicle ensures that the lithium-ion battery can be charged for a range of around 250 miles (400 kilometres – according to the NEDC) in just over 15 minutes. It can also be charged by induction, at a charging station or using the Porsche home energy storage system. The road-ready Mission E Cross Turismo builds on the Mission E study Porsche demonstrated at the 2015 International Motor Show (IAA) and uses elements that are close to series production

Two permanent magnet synchronous motors (PSM) with a system output of more than 600 hp (440 kW) allow the Mission E Cross Turismo to accelerate to 100 km/h in less than 3.5 seconds and to reach a speed of 200 km/h in under 12 seconds. Furthermore, the level of continuous power is unmatched by any other electric vehicle: multiple accelerations are possible in direct succession without loss of performance. Power is guaranteed on any surface thanks to on-demand all-wheel drive with Porsche Torque Vectoring, which automatically distributes torque to individual wheels.
Volkswagen I.D. VIZZION Electric Autonomous Concept
In a world premiere event at the Geneva Motor Show (6 to 18 March) Volkswagen has presented the I.D. VIZZION¹ concept car – the new flagship of the electric I.D. Family. With the I.D. VIZZION, Volkswagen defines the saloon of tomorrow and beyond: autonomous driving, effortless control via augmented reality, and adaptive learning thanks to artificial intelligence. The I.D. VIZZION thus achieves a new dimension of comfort, convenience, safety, and sustainability.
Dr Herbert Diess, Chairman of the Volkswagen Brand Board of Management: "Upon first glance, the I.D. VIZZION demonstrates how the All-New Electric Architecture gives us a completely new type of freedom in designing the vehicle interior and exterior." Indeed, this concept car transfers the charismatic design DNA of the innovative I.D. models into the world of large saloon cars. In the process, the lounge-like interior was redefined as well. Thanks to its new vehicle architecture, the car offers its passengers a level of spaciousness beyond that of typical premium-class vehicles in the five-metre category. This particular feeling of spaciousness is part of the vehicle's unique comfort experience.
Brand CEO Diess: "The I.D. VIZZION shows that we will not just be using uniform tin boxes in the electric, self-driving future."
The I.D. VIZZION is coming: the car will be available in 2022, initially launching with conventional controls as the top model in the I.D. Family
Toyota Concept i Electric Concept
The European debut for a series of new concept cars at the Geneva Motor Show gives an indicator to the design thinking Toyota will apply in its accelerated programme of electrified vehicle development. The Concept-i series of battery elec-tric vehicles (BEVs) and the TOYOTA FINE-Comfort Ride fuel cell electric vehicle (FCEV) demonstrate how new technologies might be used to increase the scope for personal mobility and help build a sustainable society.

At the end of 2017, Toyota Motor Corporation announced its intention to increase the pace of its electrified vehicle development, targeting more than 5.5 million sales by around 2030. More than one million of these are expected to be battery electric or fuel cell electric vehicles (BEVs and FCEVs) with zero emissions.

Toyota Concept i

Toyota Concept-i can engage in conversations based on its understanding of the driver's mood and preferences. The car suggests topics of inter-est, creating a new style of two-way, free con- versation. It can also create an "emotion map," periodically charting the driver's emotional state and GPS information. Applying the infor-mation it gathers as big data, the Concept-i se-ries can suggest new, enjoyable routes as slight detours from planned journeys.

The vehicle has a forward-projecting, fu-turistic silhouette and a simple, open interior. Starting from the Agent at the centre of the instrument panel, the design theme flows from the inside out, with seamless styling that con-nects the design of the instrument panel to the exterior bodywork. It provides a new user experience through intuitive HMI interaction with the Agent, using a 3D head-up display.

Related Article Toyota Concept i 2017 and Dr. Pratt remarks on autonomous mobility

Toyota Concept-i RIDE

The Toyota Concept i RIDE is a small vehicle for universal use based on the concept of user-friendly city mobility in particular for wheelchair users.

The Concept-i RIDE has gull-wing doors to provide easy access and an electric seat that slides towards the door opening so that people who might feel uneasy moving between their wheelchair and the car can make the transfer with ease. The opening/closing of the doors accommodates loading and unloading of the wheelchair; this can be easily stored in the rear thanks to the vehicle's seat design.

The car is controlled using a joystick instead of a steering wheel and accelerator and brake pedals, and its compact dimensions make it easy to navigate in and out of single-car park-ing spaces. The emphasis has been placed on ease-of-use when driving, stopping or parking.
The AI Agent, a feature of all the Concept-i series vehicles, is positioned on a large display in the instrument panel. It actively presents information to support and enhance journeys, such as details of facilities with access provi-sions for disabled people.
Toyota Fine Comfort Ride Hydrogen Fuel Cell Concept

Toyota Motor Corporation (Toyota) has launched the "Fine-Comfort Ride," a fuel cell vehicle (FCV) that envisions mobility in a low-carbon society with advanced utilization of hydrogen and renewable energy. The Fine-Comfort Ride proposes "a new form of the premium saloon" by employing a flexible layout unique to electric-powered vehicles and a large amount of available electric power using hydrogen as an energy source.
Hybrid Kinetic GT by Pininfarina
One year after the global debut of the luxury sedan H600 at the 2017 Geneva Motor Show, followed by the unveiling of the five seater SUV K550 and seven seater SUV K750 at the 2017 Shanghai Motor Show, Pininfarina presents the 2018 HK GT, the fourth concept car conceived together with Hybrid Kinetic Group, the emerging hi-tech brand based in Hong Kong.

With the HK GT, Pininfarina interprets a classic architecture of the Italian automobile school, the Gran Turismo, while continuing to refine the identity and the formal language of the Hybrid Kinetic brand.
Sensuality, power, and elegance. Three simple words to define the external style of the HK GT. In the best tradition of the Italian "carrozzeria", the HK GT concept car presents compact and voluptuous volumes and surfaces with soft transitions, finely structured by subtle sharp lines.
The car, boasting appealing proportions, has a 2+2 configuration entirely unveiled by the opening of gull-wing doors.
The HK GT is equipped with 38 KWh of HK's super batteries, 4 integrated PM motors with a combined power output of over 800KW, and 2-speed transmission. This setup will allow the vehicle to reach a top speed of 350 km/h and a 0-100km acceleration of 2.7 seconds. The torque vectoring system provides torque distribution among the four wheels which have its own motors for greater control and stability. In addition, the GT is also equipped with a regenerative braking system.
HK clean energy vehicles can be equipped with three different range extenders: a low-emission microturbine generator range extender which accepts a variety of fuels, a zero emission hydrogen fuel cell system range extender, or a highly efficient internal combustion engine range extender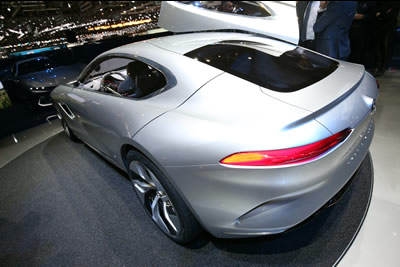 -Rimac Concept Two Electric Supercar - 1914 hp/1408 kW -4 electric motors
Rimac Automobili has introduced the next generation of performance, the evolution of the Rimac C One electric hypercar.

The Rimac C_Two is a pure electric GT hypercar as capable on track as it is crossing continents. A car as bespoke as it is user-friendly. Configurable, personal and extremely powerful, representing what is possible when true innovation and passion is allowed free rein. Building on the knowledge gleaned from the brilliantly powerful Rimac Concept_One, the all-new C_Two combines the very best materials and bespoke technology to produce something both revolutionary and eminently useable, with performance and character that elevates the genre. There is - quite literally - no other car like it.

Top Speed: 412 km/h / 258 mph Acceleration 0-60 mph: 1.85* seconds Power: 1,914hp / 1,408 kW Motor Torque: 2,300 Nm Range: 650 km (NEDC) Units: 150

The C_Two is a comfortable, bespoke GT car that has a 650 km range (NEDC), can be charged to 80-percent capacity in less than 30 minutes.
LVCHI Venere Project
The Chinese Company LVCHI Automotive Technology has launched at Geneva the Venere Project. The LVCHI Venere is a project of high-performance, all-electric four-seater conceived according to the criteria used in the design and manufacture of Gran Turismo vehicles.
The electric powertrain consists of four elctric motors, two installed on the front axle and two on the rear axle, combined with a differential per axle, so as to implement a permanent all-wheel drive.
The car with unibody structure made of composite material and honeycomb elements propose a kerb weight of 2100 kg with a 100 KWh Battery. There are four 185KW electric motors giving a total available power of 740 KW or 992 hp.

The claimed NEDC autonomy is 652 km with acceleration 0-100 kph announced in 2,5 seconds and top speed given for 285 kph.
The Venere is announced to be manufactured in Turin, Italy and marketed in 2019.
-GFG Envision Electric Sibylla sedan Concept
GFG Style and Envision unveiled a new concept electric vehicle, called Sibylla, that brings together beautiful design with beautiful energy, to signpost the future of mobility.

GFG Style was born in 2015 from the extraordinary experience in the field of car design of its founders, Giorgetto and Fabrizio Giugiaro. Envision is a leading digital energy company.

2018 marks Giorgetto Giugiaro's 80th birthday; this car is a celebration of a lifetime dedicated to iconic automotive design. Giugiaro has made a tradition of presenting his prototype models at the Geneva Auto Show. In recognition, his classic Chevrolet Corvair Testudo Bertone, first unveiled in Geneva in 1963, is displayed alongside the Sibylla today.

A four-door luxury sedan, the car incorporates innovative solutions in terms of accessibility, functionality, and aesthetics. It revisits classic themes; it is elegant, with generous dimensions (over 5 metres long and 1.48 metres high). The choice of electric propulsion enhanced the interior space and allowed Giorgetto and Fabrizio Giugiaro to revolutionise accessibility and exploit this space by introducing rational, functional, ergonomic solutions both inside and outside of the vehicle.

The driver enters by sliding the windscreen towards the front by 750 mm on three tracks: two on the bonnet and one on the roof. The central longitudinal structure also has hinges for the second-row passenger windows, which open in a gullwing fashion. The doors open at the same time as the windscreen and rear window; once seated, the cockpit closes automatically.

An electric car with a 75 KWh battery can store as much electricity as an average European household consumes in a week. Integrating the car into the energy system means the car can be both an energy source and help contribute to stabilising the energy grid, a critical link between energy supply and demand.




- Corvair Monza Testudo Bertone Design Study 1963 conceived by Giorgetto Giugiaro
The concept Corvair Testudo was developed by Giorgetto Giugiaro in 1963, when he was 24 years old, for the Carrozzeria Bertone. This exhibit on Geneva GFG Style booth, represents a commemoration to the 80th anniversary of Giorgetto Giugiaro and his long career as major Car Designer. In 1968 Giorgetto Giugiaro and Aldo Mantovani founded Ital Design a Design Studio responsible for a large variety of production cars like the Volkswagen Golf or the Lancia Delta and several concept prototypes like the Ital Design Bizzarini P538 Manta 1968 or the Ital Design Maserati Boomerang 1972.

Ital Design was adquired by the Volkswagen Group. Giorgetto and his son Fabrizio worked for sometime at Ital Design before founding GFG Style Design Studio that participated in the development of Techrule Chinese electric car with gas turbine range extender exhibited at Geneva in 2017.
-CUPRA e-RACER Welcomes the E TCR SERIES
Two separate worlds, SEAT and CUPRA, are exhibiting side by side to captivate visitors to their stands. CUPRA is making its public debut at this new edition of the Geneva Motor Show. The new brand was created for the purpose of conquering a new group of motor enthusiasts who are looking for a reinterpretation of the sporty essence by combining uniqueness, sophistication and performance. CUPRA aims to appeal to new customers who want to avoid entering in the luxury segment but at the same time want to feel special.

The E TCR series are new motorsport electric multi-brands touring car championship with the first season starting in 2018. Cupra is a new brand within Seat organisation and dedicated to uniqueness, sophistication and performance. . Along with the launch of new models, CUPRA will also keep the motorsport and racing spirit alive by participating in the TCR series.

This CUPRA e-Racer is the first touring car that complies with the requirements for competing in the new E TCR. The engines are located over the rear axle and deliver up to 500 kW (680 horsepower), which is 242 kW (330 hp) more than usual on the petrol fuelled CUPRA TCR version, and it is also equipped with an energy recovery system. Compared to the conventionally powered CUPRA TCR, despite weighing 400 kilos more, it features excellent performance and 0 to 100 km/h acceleration in 3.2 seconds and 0 to 200 km/h in 8.2 seconds.
-Techrule Electric Sports Car with Gas Turbine Range Extender
Techrules has unveiled the final production design of its Ren RS hybrid supercar at the 2018 Geneva Motor Show. The single-seat race car is a lightweight, high-performance track variant of the Techrules Ren supercar that was first previewed at last year's Geneva show.

The Ren RS features the China-based company's ground-breaking Turbine-Recharging Electric Vehicle (TREV) system. The series hybrid powertrain delivers unprecedented levels of efficiency and performance, using advanced micro-turbine technology to deliver an ultra-low environmental impact.


The modular chassis design permits a variety of powertrain configurations, to provide the range and performance capabilities required by the customer. The flagship version – with a high-power 28.4 kWh Lithium-Ion Polymer battery and with two motors at the front and four at the rear – delivers maximum power of 960kW (1,287 hp / 1,305 PS) with a range of 1170 km from 80 litres of diesel fuel (NEDC).

As a result, the most powerful Ren RS will rocket from 0-100 kph in just 3 seconds, onto a top speed of 330 kph, delivering a unique blend

The supercar will be available for track use only and delivered to an exclusive band of customers within two years. Techrules is in discussion with potential international automotive partners to form strategic alliances to assist with the production and launch of vehicles for markets around the world.

William Jin, the founder and CEO of Techrules, said: "The unique modular design of the Ren chassis and powertrain has enabled us to create a perfectly engineered high-performance track car and demonstrate our TREV technology in the most efficient way. We are working hard to grow our global capabilities in engineering and manufacturing and will soon reveal major joint ventures that will enable us to further develop our innovative technology for a wide range of commercial mobility and industrial applications."
- Aston Martin Lagonda Vision Electric 4 seat Performance Sedan Concept
Aston Martin has presented the Lagonda Vision Concept, marking the beginning of a new range of state of the art, emission-free luxury vehicles. Production is planned to start in 2021.

'The Lagonda Vision Concept is an incredibly bold design statement,' said Aston Martin EVP and Chief Creative Officer, Marek Reichman. 'The electrification revolution means there is no longer any need for horse and carriage design, and our new concept shows the scope of design opportunities that open up once you no longer need to provide space for a large power source directly in front of the passenger compartment. In the Lagonda Vision Concept, the batteries occupy the floor of the car. Everything above that line belongs to us.'

The Vision Concept showcases Lagonda design ingenuity. Both far shorter and lower than traditional limousines, the exceptional space efficiency that has been achieved by its radical design means there is room inside for four adults, each of two metres height or more, to stretch out in luxurious comfort.

The Lagonda Vision Concept also anticipates a world with a high level of autonomy. Its design is commensurate with level four autonomous driving, meaning the car is capable of driving itself in all routine circumstances and on all recognisable roads. As a result, the steering wheel can not only move from left to right hand drive according to need, in autonomous mode it can also retract entirely allowing front seat passengers to rotate through 180 degrees to engage in face to face conversation with those in the back. In the meantime, the car will not only have 360-degree awareness of the world around it, but also be fully connected to it, allowing occupants unprecedented access to bespoke concierge services and a level of connectivity and cyber-security few enjoy in their own homes, let along their cars.
-BMW Concept M8 Grand Coupe Concept
World premiere for the BMW Concept M8 Gran Coupe: Study car offers a look ahead to the most alluring and exotic variant of the new BMW 8 Series; emotionally compelling exterior design combines the core values of BMW M with elegance and luxury; dynamically stretched proportions; bonnet with muscular contours; large air intakes; Salève Vert paint finish appears to change in colour, combines with gold-coloured elements; visually prominent shoulder sections; CFRP roof; rear with powerful, imposing presence; concept study previews the BMW 8 Series Gran Coupe and BMW M8 Gran Coupe, which will be presented in 2019.
-Mercedes Benz AMG GT 4-Door Coupé
"There are enough cars out there that are a moving compromise. The all-new Mercedes-AMG GT 4-Door Coupé certainly is not. There's plenty of space in the back – and plenty of performance in the front," says Dr Dieter Zetsche, Chairman of the Board of Management of Daimler AG and Head of Mercedes-Benz Cars. "With the all-new Mercedes-AMG GT 4-Door Coupé, we are adding another great option to our portfolio. It now offers more variety and choice than ever."

The all-new Mercedes-AMG GT 4-Door Coupé delivers a very special driving experience across the board and ensures a confident and refined presence in all areas of life, with exceptional performance and a top speed of 315 km/h. Modern, powerful in-line 6 and V8 engines with a power spectrum ranging from 320 kW (435 hp) to 470 kW (639 hp) unleash completely new driving experiences and pair compelling performance figures with contemporary efficiency
-Polestar 1 Hybrid Coupe
Polestar, the new electric performance brand, has introduced the Polestar 1 to the public for the first time at the Geneva Motor Show. The European debut follows its global media reveal in Shanghai, China, in late 2017.

"This is the public launch of the new Polestar 1, and our new electric performance brand. Electromobility is the main focus of today's automotive industry, and Polestar is at the centre of this development, introducing world-class electrified cars and ground-breaking, customer-focussed services and offers," said Thomas Ingenlath, Chief Executive Officer of Polestar.
"To date, we have received interest from over 6,000 potential customers wanting the Polestar 1 – a number which began gathering momentum from the moment the car was revealed. With our current plans to produce 500 cars per year, it's possible that we have exceeded our production potential in these early stages. This positive reception to Polestar 1 really encourages us that our 'Pure, Progressive, Performance' brand proposition resonates very well with customers."
The Polestar 1 is an Electric Performance Hybrid 2+2 GT coupé which produces 600 horsepower and 1,000 Nm of torque, as well as 150 km of pure electric driving range – the longest of any hybrid car in the world.
The Electric Performance Hybrid powertrain features an internal combustion engine powering the front wheels, while a double electric rear axle drive system powers the rear wheels from a total of 34 kWh of battery power. In combination, the Polestar 1 is an electric vehicle with the benefits of an internal combustion engine to supplement the electric drive over long distances when required.
-Touring Superleggera Maserati Sciàdipersia Limited Edition 4 Seat Coupe
At the Geneva Motor Show Touring presented a new limited edition custom-built car, an innovative interpretation of the gran turismo theme: a car designed for long journeys, where the passengers derive as much pleasure from the journey as the driver.

As it often happens, it was an admirer of Touring Superleggera's portfolio who commissioned the creation of this new model; a car designed to cover long distance with complete ease and in total comfort.

Sciàdipersia is a coach built four seater, to be built in maximum ten examples, each intended for the most discerning customers, who appreciate luxury and value their time. Time to indulge in savouring the journey

related article Car Review Touring Superleggera Maserati Sciadipersia 2018
-Eadon Green Zeclat Coupe
The new Eadon Green ZECLAT exudes an easy calm and evokes comparison with cars of the past that now look more at home in automotive museums than they do on the roads of today.
The Eadon ZECLAT is powered by a naturally aspirated 460 hp 6.2 litre V8 with a claimed 0-60 mph time of 3.6 seconds and a special digital display to record the G forces at play as ZECLAT takes its corners
-Lamborghini Terzo Milenio
Sant'Agata Bolognese/Cambridge (MA), 7 November 2017 – Automobili Lamborghini in collaboration with two laboratories of the Massachusetts Institute of Technology marks the first steps of a possible future Lamborghini electric super sports car. On the occasion of this announcement Lamborghini presents the new design concept "Lamborghini of the Terzo Millennio". The concept physically imagines design and technology theories of tomorrow, while sustaining the visual intrigue, breath-taking performance and, most importantly, the visceral emotion found in every dimension of a Lamborghini. It is made for future super sports car enthusiasts. The Lamborghini Terzo Milenio was exhibited at Volkswagen Group Press Meeting at Geneva Motor Show.

See Lamborghini Terzo Milenio Electric Concept 2017 for further details and illustrations.
-Subaru Viziv Tourer Concept
Since the debut of the Subaru VIZIV Concept in 2013, Subaru has produced a series of themed concept models embodying the brand's vision for the future of making cars, that deliver enjoyment and peach of mind to its customers.

Designed with a tourer theme, the Subaru VIZIV Tourer Concept unites a Symmetrical AWD layout powered by a boxer engine, with Subaru's wealth of expertise in offering driving performance, practicality and safety; delivering a new value in a tourer form, enabling drivers and passengers to fully savor the enjoyment of travelling by car. The name VIZIV has been coined from the phrase "Vision for Innovation"
-Bentley Bentayga Hybrid
The Bentayga Hybrid represents Bentley's first step towards full electrification, combining the serenity of silent motoring with exquisite comfort and effortless performance. At the heart of the Bentayga Hybrid are two power sources – a highly efficient electric motor and a new turbocharged 3.0-litre V6 petrol engine. The E Motor acts as both an electric motor and a generator to offer a seamless driving experience and guaranteeing maximum electric-only range.
The battery is recharged in 2.5 hrs . The electric-only range of over 50 km (NEDC)
- FORD MUSTANG BULLIT
Celebrating the 50th anniversary of the legendary Warner Bros. film starring Steve McQueen, the Mustang BULLITT features an enhanced Ford 5.0-litre V8 powertrain with new rev-matching technology for seamless gear changes, and was unveiled in Europe with the support of third-generation members of the McQueen family, Chase and Madison McQueen

pictures above : 2018 FORD MUSTANG BULLIT

pictures above : 1968 FORD MUSTANG BULLIT
-FORD GT IMSA GTLM and WEC GTE PRO
The Ford GT was prepared by Multimatic for the IMSA and WEC Championship in 2016. The GTLM/GTE-Pro racing car was launched together with a road version Ford GT. The program was intended for two years and 500 road versions but due to exceptional success it was extended for two more years ending 2019. The Ford racing already accumulated successes at Le Mans 24 Hours (GTE-Pro Class winner 2016) or Daytona 24 Hours GTLM Class winner 2018 among other results.

Related article: informations and pictures on FORD GT IMSA GTLM and WEC GTE PRO 2016
Fenyr Supersport by WMotor
WMotor is based in Dubai and dedicated to the development and production of luxury high performance automobile. The Company was founded in 2012. The new model Fenyr Supersport was unveiled at the Geneva Motor Show. The car with carbon composite unibody structure is propelled by a 3746 cc twin turbo flat-six prepared by RUF Automotive Company and producing 900 hp and 7100 rpm and 1200 Nm at 4000 rpm. The engine is placed in mid rear position. Claimed acceleration 0-100 km/h (0-62 mph) is announced for 2.8 sec. The maximum speed is quoted at 395 km/h (245 mph) (dependent on the gear ratios). Length:4495 mm (175 in) Width: 1995 mm (76.5 in)Estimated Kerb Weight: 1400 kg.
-Mazda Vision Concept
Since 2010, Mazda has attracted global acclaim for its vital and dynamic car designs created under the KODO—Soul of Motion philosophy. The Mazda Vision Coupe made its World Premiere at 2017 Tokyo Motor Show. It was now exhibited at Geneva for a First European launch.
The Mazda VISION COUPE is next-generation design vision model with four doors.
The exterior of the next-generation vision model embodies a minimalist Japanese aesthetic, achieving a simple "one motion" form that exudes a sense of speed. No details has been provided considering the power train. The styling clearly recalls the two doors coupe Mazda RX-Vision exhibited in 2016 with a claim for the return of the rotary engine.
- Mazda KAI Concept and SKYACTIV-X Engine Technology
Featuring the next-generation SKYACTIV-X gasoline engine, SKYACTIV-Vehicle Architecture and a more mature expression of the KODO design language, the Mazda KAI CONCEPT embodies the technology, engineering and design concepts that will define the next generation of Mazda cars. Refinements in all areas of dynamic performance have produced a dramatically quieter, more comfortable ride and an enhanced performance feel. The KAI CONCEPT features muscular, solid proportions and its form is brought to life by a delicate flow of reflections over the body sides.

SKYACTIV-X is an entirely new internal combustion engine from Mazda that combines the high-revving character of a gasoline engine with the fuel efficiency, torque and fast initial response of a diesel. With its proprietary combustion method called Spark Controlled Compression Ignition (SPCCI), SKYACTIV-X is set to become the world's first commercial gasoline engine to use compression ignition. SPCCI overcomes the long-standing issue of maximizing the zone in which compression ignition is possible and realizes a seamless transition between compression ignition and spark ignition.
-Lexus Hydrogen Fuel Cell or Battery Electruc LF-1 Limitless Concept
The Lexus LF-1 Limitless concept introduces a new genre of luxury vehicle: the flagship crossover. Combining high performance with unrestrained luxury, the Lexus LF-1 Limitless is a showcase of technology, innovation and the latest evolution of design at Lexus.
Limitless in its potential and possibilities, this concept caters to the diverse lifestyles of our customers. Likewise, the possibilities for powertrains are limitless. The LF-1 concept could be powered by fuel cell, hybrid, plug-in hybrid, gasoline, or even all-electric. By around 2025, every Lexus model around the world will be available either as a dedicated electrified model, or have an electrified option.
- Nissan iMX Electric Cross-over Concept
The Nissan IMx, an all-electric crossover concept vehicle offering fully autonomous operation and a driving range of more than 600 kilometres (373miles), was unveiled at the Tokyo Motor Show. The Nissan IMx Electric and Autonomous Concept was exhibited at Geneva for a first European launch.
"The IMx zero-emission crossover concept vehicle embodies the future of Nissan Intelligent Mobility," said Daniele Schillaci, executive vice president for global marketing and sales, zero-emission vehicles and the battery business. "Through Nissan Intelligent Mobility, Nissan is committed to changing the way people and cars communicate, as well as how cars interact with society in the near future and beyond."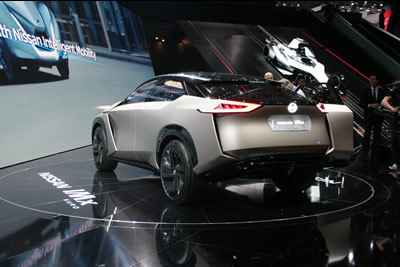 - Nissan Formula E Concept
Taking center stage of Nissan exhibit was the world premiere of the all-electric ABB FIA Formula E Championship race car, seen in its concept livery for the first time. The car will make its city circuit debut at the start of the 2018/19 season later this year.
- Honda Electric Urban EV Concept
Built upon a newly developed EV-only platform, the Honda Urban EV Concept is a compact car, ideal for urban driving. The exterior expresses Honda's small car DNA, the "joy of lively driving" and "friendliness that inspires attachment" simply and iconically. The front and rear are equipped with displays that show messages and greetings to onlookers. The living room-like interior is modern and comfortable, equipped with a large display and "Honda Automated Network Assistant" based on Honda's AI technology. Learning the driver's lifestyle and tastes, the Honda Urban EV Concept provides the driver with timely suggestions, realizing a natural communication between driver and car. A small car that is closer to people, closer to life: this is Honda's vision of the new relationship between people and cars. .Honda announced that a new model based on this concept will go on sale first in Europe, and then in Japan in 2020.
-Honda Sports EV Concept
Honda exhibited the world premiere of the Honda Sports EV Concept, a concept model which combines EV performance and AI (artificial intelligence) inside a compact body with the aim to realise the joy of driving the user can feel with a sense of unity with the car.
-

BMW Z4 Concept
The BMW Group exhibited the Z4 Concept that was first unvieled at the Concours d'Elegance at Pebble Beach to present its exciting new take on a BMW roadster. Dynamic, progressive and an irresistible purveyor of thrills, the BMW Concept Z4 boasts lithe and compact proportions, a dynamic silhouette and an emotionally appealing use of forms.
A production version is announced to be under development together with Toyota and will share the platform of the future new Supra. See Car Review BMW Z4 Concept
-Mitsubishi e-Evolution Electric SUV Concept
The MITSUBISHI e-EVOLUTION CONCEPT is a technical prototype to illustrate the strategic directions of a renewed MMC Mitsubishi Motor Corporation brand, incorporating the strengths of the SUV and EV with the ability to integrate new systems for a connected mobility customer experience.
"We aim to provide vehicles that fulfill our customers' desires through outstanding design, combined with the power, authenticity and carefully-considered functionality MMC is known for," said MMC Head of Global Design Tsunehiro Kunimoto.
The Mitsubishi e Evolution Electric SUV Concept made its World Premiere at 2017 Tokyo Motor Show. It was now exhibited at Geneva for a First European launch.
Text & Photos by Paul DAMIENS, Newspress and Manufacturers Media Archives
---