TOYOTA GAZOO RACING - TS050 Hybrid LMP1 2017
Last update, Silverstone April 17th 2017:
Toyota GAZOO Racing scored a victory in the 6 Hours of Silverstone after a thrilling opening round of the 2017 FIA World Endurance Championship (WEC).
In a race defined by several rain showers, the #8 TS050 Hybrid of Sébastien Buemi, Anthony Davidson and Kazuki Nakajima earned victory inside the final 15 minutes in front of 50,200 spectators

TOYOTA GAZOO Racing revealed the updated TS050 HYBRID race car which will carry its hopes in the 2017 FIA World Endurance Championship (WEC).
WEC Prologue, Monza, April 2nd 2017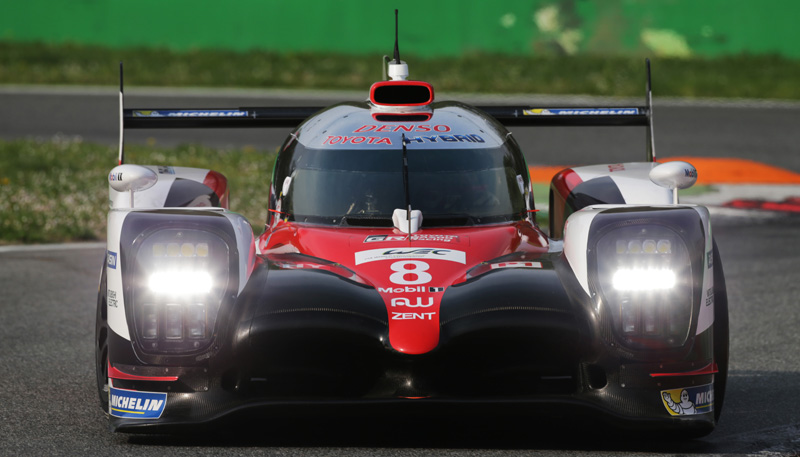 Monza in northern Italy hosted the first public appearance of the new car, presented alongside team management and the drivers of the three TS050 HYBRIDs which will compete this season.
Mike Conway, Kamui Kobayashi and José María López race the #7 for the full season, alongside Sébastien Buemi, Anthony Davidson and Kazuki Nakajima in the #8. Stéphane Sarrazin is joined by Yuji Kunimoto and Nicolas Lapierre in the #9 at Spa-Francorchamps and Le Mans.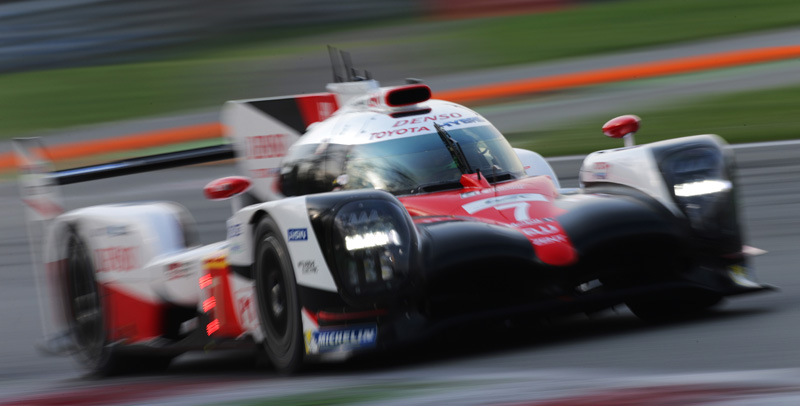 The team has a clear target to earn its first Le Mans victory following an extraordinary near miss in 2016. That requires a combined effort at its technical centres in Higashi-Fuji and Cologne, with upgrades in every area of the TS050 HYBRID.
The 2017 car features a 2.4litre V6 turbo-charged petrol engine combined with 8MJ hybrid system. Significant effort at Higashi-Fuji sees the introduction of a new engine, optimising thermal efficiency by increasing the compression ratio via development of the combustion chamber, cylinder block and cylinder head.


The hybrid system too has been optimised. Motor generator units (MGU) have been reduced in size and weight while the high-powered lithium-ion battery has been developed further. Those advancements in hybrid technology will directly benefit TOYOTA customers on the road, combining with the knowledge gained by powertrain engineers to create ever-better cars in the future
To complete a wide-ranging update for the new season, engineers in Cologne have optimised virtually all areas of the TS050 HYBRID chassis, working as one team with colleagues from Higashi-Fuji.
WEC regulations for 2017 target a reduction in aerodynamic efficiency, to increase the Le Mans lap time by several seconds for safety reasons. This is achieved by raising the front splitter by 15mm in combination with a narrower rear diffuser.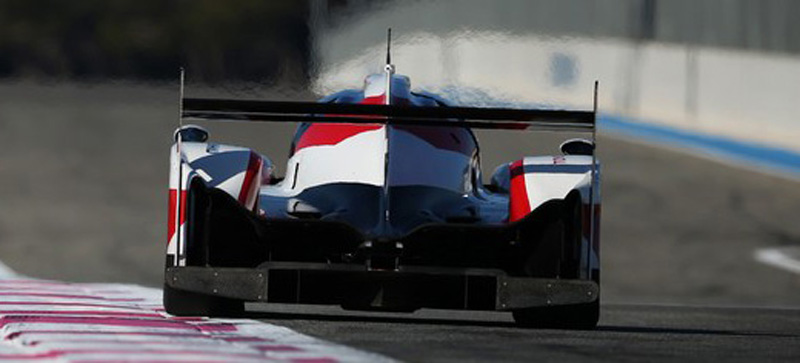 Using tools such as computational fluid dynamics and wind tunnels, TOYOTA GAZOO Racing has modified its aerodynamic concept to meet this challenge; a raised nose and sharp undercut to the sidepods are the most noticeable modifications.
According to new regulations, teams are limited to two aerodynamic configurations per season, reduced from three in 2016, with the low-downforce TS050 HYBRID launched today. Tyre usage is also restricted, with each car limited to four sets, plus two spare tyres, for qualifying and six-hour races. The team has worked with Michelin to meet this challenge, including new compounds and constructions, as well as optimising the suspension geometry to limit wear.
Other rule changes are designed to enhance safety. Side mirrors now need to pass a wider visibility field test while hybrid cars must display lights to indicate normal powertrain behaviour. If the green safety light is not illuminated during a race, a car will be forced to pit for repairs.

The 2017-specification TS050 HYBRID has already recorded over 30,000km in testing this year, comprising five tests, at Paul Ricard, Motorland Aragon and Portimao, and including four 30-hour endurance tests.
With an updated car and a driver line-up including former World Champions and multiple WEC race winners, TOYOTA GAZOO Racing heads to the season opener on 16 April at Silverstone with great determination, but expecting a close and exciting nine-race LMP1 battle with Porsche.
Toshio Sato, Team President: "The whole team is motivated and determined for this season. We want to win, there is no doubt about that, but we know it will be a tough fight with Porsche. The team in Higashi-Fuji and Cologne has worked incredibly hard to update the TS050 HYBRID and the first indications are encouraging. Having a third car is an additional opportunity and we will do our best to again deliver a great spectacle for the fans at Le Mans. We know from painful experience that Le Mans is a very difficult race to win, but that is our target. Everything - the car, the team and the drivers - has to work perfectly to achieve our goal. We will see in June if we have done enough."
Histake Murata, Racing Hybrid Project Leader: "Although the TS050 HYBRID shares the same name as the 2016 car, its performance has been greatly improved by reviewing the powertrain and enhancing efficiency in all areas. TOYOTA GAZOO Racing's biggest goal for this year, as always, is winning Le Mans. The team in Higashi-Fuji has worked ceaselessly since Le Mans last year to develop a powertrain which will deliver performance over one lap and over a full race distance, enabling us to compete at the front. This has resulted in a new engine, plus modifications to the motor generator units and battery. The first results are very encouraging but we will continue to fine-tune so we are ready."
Pascal Vasselon, Technical Director: "Our 2017 TS050 HYBRID represents a significant update; the only item which is not changed is the monocoque. At several races last year we showed the potential of our car with strong performances. But to achieve our targets we need more, so as well as big aerodynamic changes, we have optimised each area for performance and weight. What happened at Le Mans last year was painful so we gave extra attention to quality management. Zero risk doesn't exist so we operate according to a given level of risk, which this year we have reduced. Pre-season testing has gone well in terms of performance and reliability so we feel positive but we also know we face a tough competitor."
Rob Leupen, Team Director: "This is a big season for TOYOTA GAZOO Racing in WEC and we are ready for the challenge. The team at Higashi-Fuji and Cologne have worked in tandem to update all aspects of the TS050 HYBRID whilst also preparing for the challenge of running three cars at Spa and Le Mans. Our targets are once again very clear; we want to compete at the front and ultimately win Le Mans and the World Championship. These are ambitious targets when faced with a formidable competitor and we know we must be on top form, with no mistakes or weaknesses. We don't race to finish second; we race to win. We embrace this challenge and working as one team will give us the best possible chance.
Toyota TS050 Hybrid LMP1 for WEC 2017 : Wallpapers
About TOYOTA GAZOO Racing in the World Endurance Championship through years:
TOYOTA first competed in the World Endurance Championship (WEC) in 1983, marking the start of a long period of participation in endurance racing. Since 1985, TOYOTA cars have raced in 18 Le Mans 24 Hours races, achieving a best result of second place on five occasions. TOYOTA entered the revived WEC in 2012, combining the expertise from TOYOTA Higashi-Fuji Technical Centre, where the hybrid powertrain is developed, with TOYOTA Motorsport GmbH's support and facilities for chassis development. The multi-national team is based in Cologne, Germany and includes engineers from TOYOTA's motorsport and hybrid department, who deliver technology and know-how back into road car development. Since 2012, TOYOTA has earned 10 pole positions and won 11 races, finishing on the podium a total of 31 times. In 2014, the team won the drivers' and manufacturers' World Championships with the TS040 HYBRID while a year later TOYOTA celebrated 30 years since its first Le Mans entry. TOYOTA Motorsport GmbH combines its role in the WEC project with its other activities, such as the supply of a World Rally Championship engine for TOYOTA's return to the category in 2017, as well as its engineering services business and customer motorsport activities.
Informations and pictures sources, Toyota Archives
Related Reviews inside autoconcept-reviews
| | |
| --- | --- |
| Toyota GR Super Sport Concept 2018 | |
| Porsche 919 LMP1 Hybrid 2017 | |
| Toyota TS030 Hybrid LMP1 - FIA World Endurance Championship 2012 - 24 Hours Le Mans 2012 | |
| Toyota TS030 Hybrid LMP1 2013 | |
| TOYOTA RACING - World Endurance Championship : WORLD CHAMPIONS 2014 | |