Talbot Lago T23 Jeancart Design Teardrop Coupe Figoni & Falaschi 1938
Without doubt, the Talbot-Lago Teardrop Coupes by Figoni et Falaschi represent the crowning achievement of French design and engineering during the 1930s. In 1937, Figoni and Lago signed an agreement to work together exclusively, and for a time they did. The finest product of their collaboration was the landmark "Teardrop" or "goutte d'eau coupé," with just 16 ultimately produced in two series.
The first series, named "Jeancart" after the first patron of the design, was a lovely aerodynamic coupé with a slight notchback design. Five were built, with three on the T150-C SS chassis, one on the three-litre T23 chassis and one on the T150-C Lago Speciale long-wheelbase chassis.

The second series, débuted at the New York Auto Show and named "Model New York" in honour of the occasion, was quite similar in concept but featured an uninterrupted fastback profile. While not all such cars were officially designated "Model New York" by Figoni, all share the same appearance and characteristics, and consequently they are usually listed together by marque experts. See Talbot Lago T150 C SS Teardrop Coupé Figoni & Falaschi 1938
Regardless of the series, each Teardrop was coachbuilt, and consequently there are minor and even major variations from one car to another. Lago and Figoni prepared, for example, a pair of Talbot Lago T150 C SS teardrop coupe for Luigi Chinetti who entered them in 1938 24 Hours Le Mans endurance race; one such car finished the race in third position overall.
The car subject of this article is chassis N°93064 that is the only Jeancart-style four litre Talbot Lago T23 Teardrop Coupe built
115 bhp, 3,996 cc inline six-cylinder engine with hemispherical combustion chambers and twin carburetors, Wilson four-speed preselector gearbox, independent front suspension with transverse leaf spring, live rear axle with semi-elliptic leaf springs and four-wheel drum brakes. Wheelbase: 116.14"
Existing records indicate that 93064 was ordered as a "Baby 4L" chassis with Style 9221 Model Jeancart coachwork, which was built by Figoni et Falaschi was delivered on February 21, 1938 to a French resident.
Chassis 93064 made its way to Southern California during the late-1940s, having likely been imported by a returning member of the American armed services.
At some point in the late-1980s, 93064 was purchased by a Japanese collector and remained there until its next owner, Mr. Charles Morse, returned it to America..
Next, the Teardrop was shipped to expert restorers Carrosserie Tessier in France, who undertook a complete body-off-frame restoration with virtually no expense spared. The body's wooden sub-structure was carefully examined and repaired, with an estimated 80 percent of the original woodwork saved and preserved. The flowing sheet metal was extensively repaired as well, with an estimated 90 percent of the original metalwork remaining. New front and rear bumpers were installed as the prior units had become separated from the car at some point, and new front lights were also installed. The chassis and mechanical components were fully restored, including a full engine overhaul, which retained all original engine parts except for a new set of pistons. At this time, the somewhat difficult Winfield carburetors were replaced with period Solex units, more in keeping to the original specification of the car. The interior upholstery was completely restored to original specification, and the stunning exterior was refinished in Lago Blue, the same color it wore when it was displayed at the Concours d'Elegance de l'Auto in 1938.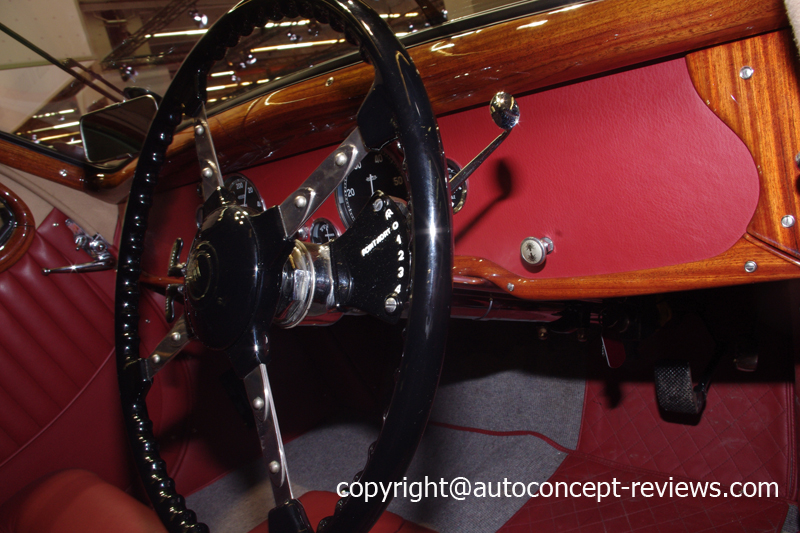 In 2010, the Talbot Lago T23 Teardrop Coupé by Figoni and Falschi was sold for £ 1.792.000 at London RM Auction Sale.
In August 2012 the same Talbot Lago chassis N° 93064 was sold for US$ 2.640.000 at RM Sotheby Monterey Auction Sale
The photographs illustrated here were completed on D. Tessier Coachwork exhibit at 2011 Retromobile in Paris .
Text P. Damiens Photos Kenn Damiens-Source RM Sotheby 2012 - 24 Heures du Mans 1930-39 Quentin Spurring
Wallpaper for Talbot Lago T23 Jeancart Design Teardrop Coupe Figoni & Falaschi 1938 (click on image to enlarge)