FERRARI F40 and Competition F40 GTE and F40 LM 1987 -1992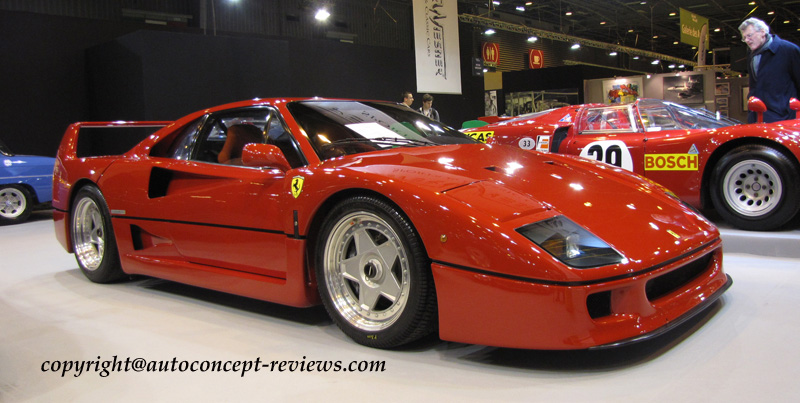 The Ferrari F40 was created and built in 1987 for the commemoration of 40 Years of Ferrari as Automobile Manufacturer Company. Let us remember that the first Ferrari was completed in 1947 with a 1.5 Litre V12 engine of 125 cc unit capacity for each cylinder. The car called Ferrari 125 S was designed and developped by Giachino Colombo with technician Giuseppe Busso and test driver Luigi Bassi who all came from Alfa Romeo at the request of Enzo Ferrari. The Ferrari 125S was intended for racing and eventually won its second race at Rome Grand Prix with Franco Cortese at the wheel.
Racing career for a road homologated automobile 1989 - 1996
The Ferrari F40 was designed as a racing car for road use. This means it was conceived for minimum weight and thus automobile equipment was brought to a minimum air conditioning. The F40 was eventually modified and raced by private teams from 1989 to 1996. It started in the USA in IMSA GTO series with Jean Alesi finishing 3rd at Laguna Seca or Jean Pierre Jabouille completing the 1990 Mid Ohio 250 kilometres in 3rd position. In Europe modified Ferrari F40 participated in 1994 Jarama 4 Hours or Paris 1000 kilometres with Luciano Della Noce and Anders Olofsson at the wheel but did not finish to race. In the same year 1994, Mauro Trione won the Italian GT Vallelunga driving the Ferrari F40 of Jolly Club. The same car was entered at 1994 Le Mans 24 Hours but did not finish the race. The Jolly Club Ferrari won the 1994 Suzuka 500 kilometres with Anders Oloffsson and Luciano Della Noce at the wheel.
Three Ferrari F40 LM and GTE participated in the prequalifying tests of 1995 Le Mans 24 Hours. The Pilot Aldix Racing Ferrari F40 LM driven by Michel Ferté, Olivier Thevenin and Carlos Palau finished the race in 12th position. The Ennea S.R.L. Ferrari F40 GTE driven by Gary Ayles, Massimo Monti and Fabio Mancini concluded the race in 18th position.

In 1995, the Ferrari Club Italia entered two Ferrari F40 GTE at Suzuka 1000 kilometres endurance race where they finished in 3rd and 6th position. Michel Ferté and Olivier Thevenin finished second in 1995 Silverstone 4 Hours while driving Pilot Aldix Team Ferrari F40 LM.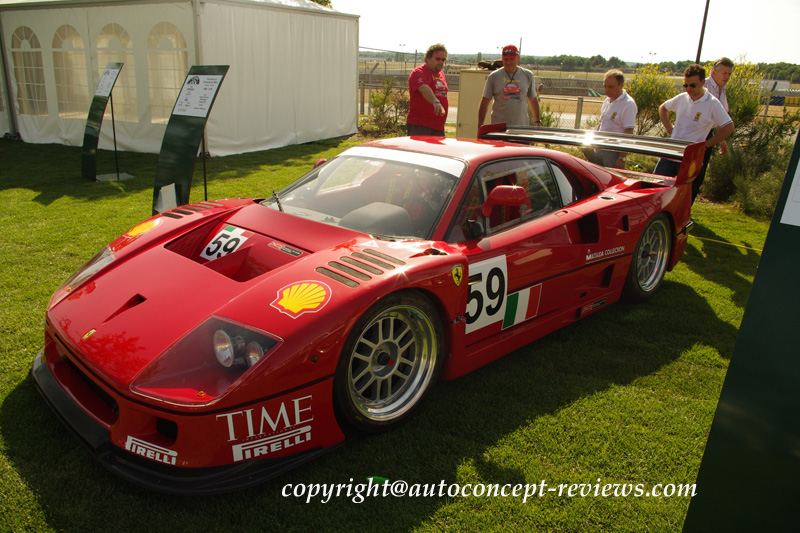 The Ferrari F40 GTE pictured here at Classic Le Mans was entered at 1996 Le Mans 24 Hours with Robert Donovan, Pierro Nappi and Tetsuya Ota at the wheel but retired from the race with only 129 laps completed.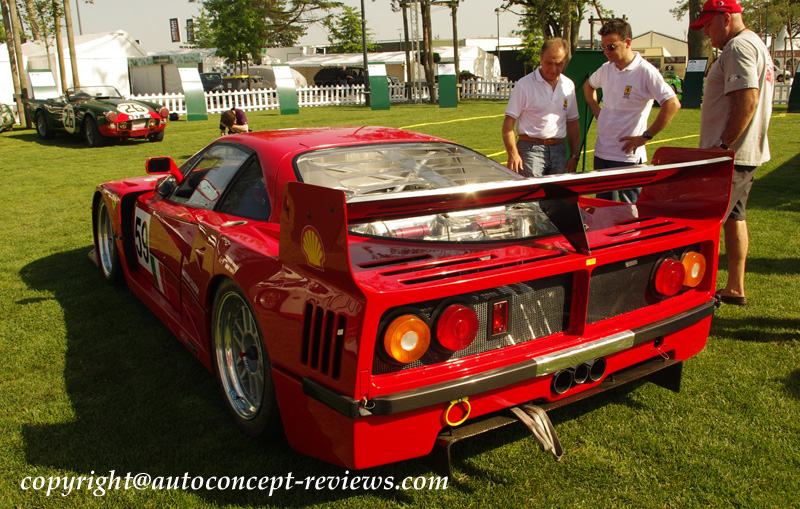 The Ferrari F40 designed and built to commemorate Ferrari 40 Years
The Ferrari F40 was not propelled by a V12 engine as would be expected but by a twin turbo 2936 cc 90° V8 producing 478 hp at 7000 rpm and derived from 1984 Ferrari 288 GTO unit. The power unit is installed in longitudinal position with a five gears transmission behind the driver seat. There are disc brakes on all wheels. The suspension are independant with double wishbones and coil springs arounf=d telescopic dampers on all corners.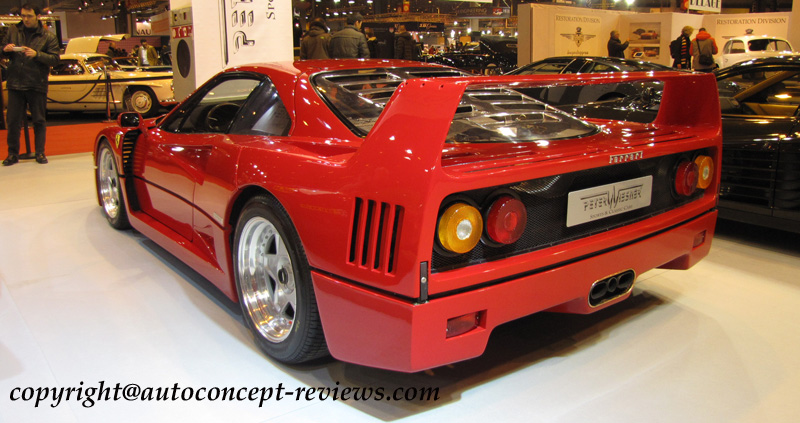 The Ferrari F40 was originally scheduled to be produced only in 400 examples but the demand was so strong that 1337 cars were completed between 1987 and 1992.
The Ferrari was created and manufactured by Ferrari and Pininfarina. The Ferrari F40 is built around a multi-tubular space frame. It integrate a large quantity of lightweight composite materials, in particular Kevlar, for its bodywork. The side windows and rear element are made of lightweight plexiglass.

Dimensions wheelbase 2450 mm, length 4338 mm, width 1970 mm, height 1124 mm kerb weight 1100 kg.
Claimed top speed 324 kph (201 mph).


Ferrari F40 -A Few Auction Sales Results
2010 Gooding Pebble Beach - 1991 Ferrari F40 US$ 583.000
2011 Gooding Amelia Island - 1990 Ferrari F40 US$ 522.500
2011 Gooding Scottsdale - 1990 Ferrari F40 US$ 495.000
2013 Gooding Amelia Island - 1990 Ferrari F40 US$ 715.000
2013 Gooding Pebble Beach -1990 Ferrari F40 LM Racing US$ 2.090.000
2013 RM Monterey - 1990 Ferrari F40 US$ 1.155.000
2014 Gooding Pebble Beach-1990 Ferrari F40 US$ 1.320.000
2015 RM Monterey - 1994 Ferrari F40 LM Racing US$ 3.300.000
2015 RM Arizona -1990 Ferrari F40 US$ 1.265.000
2015 Bonhams Paris - 1990 Ferrari F40 Euros 724.000
2015 Gooding Amelia Island -1991Ferrari F40 US$ 1.622.500
2015 Gooding Pebble Beach - -1992 Ferrari F40 US$ 1.375.000
2015 RM London - 1992 Ferrari F40 £ 845.000
2015 RM Villa Erba -1991 Ferrari F40 Euros 1.080.000
2015 RM Paris - 1990 Ferrari F40 Euros 1.176.000
2016 Gooding Scottsdale -1990 Ferrari F40 US$ 1.534.500
2016 RM Monterey -1990 Ferrari F40 US$ 1.265.000
2016 RM Paris - 1989 Ferrari F40 Euros 1.036.000
2017 Gooding Amelia Island -1990 Ferrari F40 US$ 1.485.000
2017 RM Santa Monica -1992 Ferrari F40 US$ 957.000
2017 BONHAMS Quail Lodge - 1990 Ferrari F40 US$ 1,457,500
2017 RM Monterey - 1991 Ferrari F40 US$ 1.540.000
Paul Damiens - photos autoconcept-reviews.com, NEWSPRESS
source of information : Ferrari All the Cars by Leonardo Acerbi , Haynes Publishing -www.racingsportscar.com
RM Sotheby- Bonhams and Gooding & Company
wallpapers FERRARI F40 and Competition F40 GTE and F40 LM 1987 -1992 (click on image to enlarge)