Ferrari 275 GTB and GTB4 road and track versions 1964-1968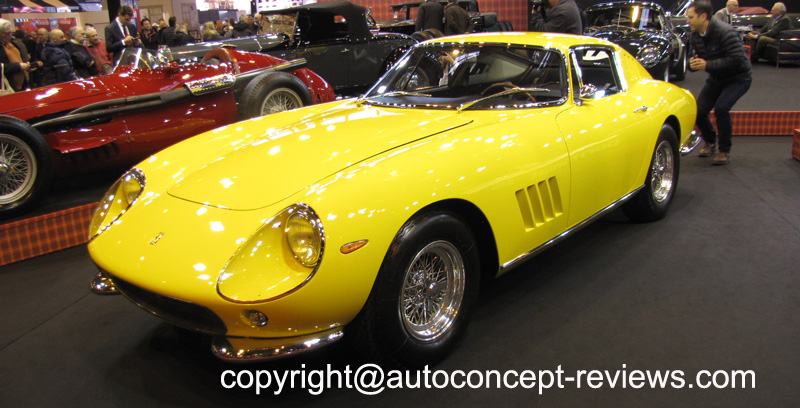 Ferrari had a decade of successes with a long serie of different 250 GT models, both on the road and track. The Ferrari 275 GTB is the successor to the Ferrari 250 GT and was introduced at the 1964 Paris Motor Show. The road going Grand Touring car was proposed as a replacement to the Ferrari 250 GT Lusso.
For the first time with this model, a Ferrari was equiped with independent suspension on all wheel. For a better weight distribution, the gearbox was installed next to the differential . A power tube transferred the torque from the clutch to the gearbox; it was later installed in a torque tube for more rigidity. The suspension was using coil spring and damper unit all around with twin wishbone elements.
&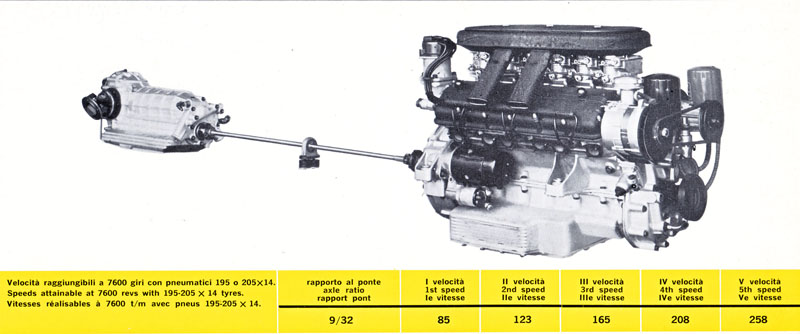 The standard 3,286 cc V12 engine with single overhead camshaft and three Weber carburettors produced 280 hp.at 7500 rpm. An option with six Weber carburettor proposed 300 hp at 8,000 rpm. Lubrication was by dry sump.
The claimed performances represents 265 kph in top speed.
In 1966 a new front end called "long nose" was proposed for a better aerodynamic. The previous model consequently received the designation "short nose". When six carburettors option was applied the bonnet became more bulbous to allow space for those elements.

The Ferrari 275 GTB was proposed with a body designed by Pininfarina and built by Scaglietti. Some 450 examples were built between 1965 and 1966 with a dozen racing version 275 GTB Competition with light alloy body, Plexiglass windows and specially prepared engines. In 1967 a twin camshaft version was introduced as Ferrari 275 GTB4 and about 330 examples were produced until 1968.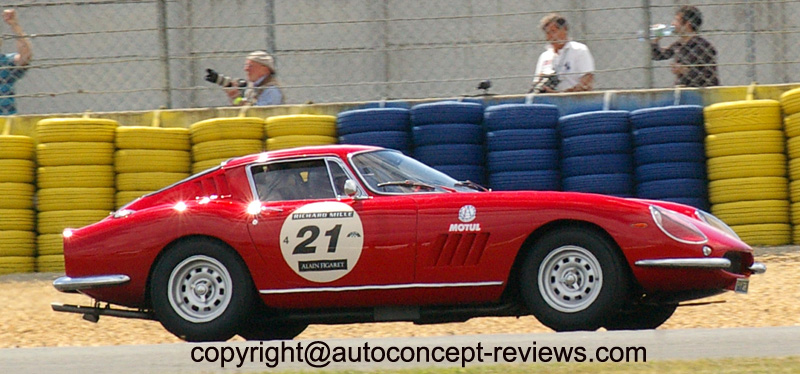 Starting from 1965, the Ferrari 275 GTBC was entered at Le Mans 24 Hours. The yellow car entered by the Belgian Francorchamp Racing Team finished third overall and GT Class winner with Jean Blaton and Willy Mairesse at the wheel; the car required additional air entrances at the front end for a more efficient cooling.
In Fact in 1965, Ferrari tried to homologate the Ferrari 250-275 LM for the GT Category. the Officials refused on the basis that the model was essentially a prototype (one that eventually won 1964 Le Mans) with a roof. In any case Ferrari had also applied for homologation of the new 275 GTB in GT category. The race model prepared by Mauro Foghieri team for some selected clients was some 500 kg lighter than the road going Grand Touring model.
In 1966, two Ferrari 275 GTBC completed the Le Mans race finishing 8th and 10th overall position and capturing the GT Class victory again. The two Ferrari 275 GTB were indeed the only Ferrari to complete the race out of 14 cars entered.
For the 1967 edition of Le Mans endurance race, The Scuderia Filipinetti entered a Ferrari 275 GTBC driven by Dieter Spoerry and Rico Steineman at the 11th overall position with GT Group 3 3001-5000 cc Class victory.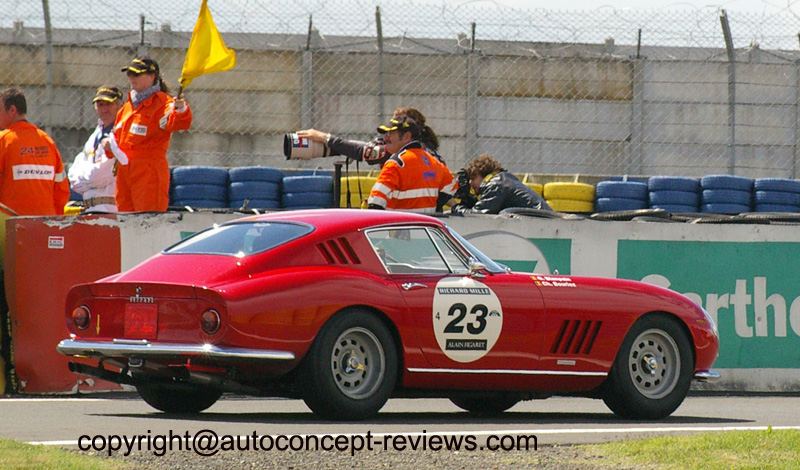 The Ferrari 275 GTB is gradually gaining value especially in Classic Car Auction Sales. We have selected a few such examples below.
Gooding Pebble Beach 2013- 1965 Ferrari 275 GTB -short nose-is sold for US$ 1.540.000 . It is one of approximately 250 Short Nose examples built.
Gooding Pebble Beach 2013- 1965 Ferrari 275 GTB with right hand drive, was sold for US$ 1.485.000.
Gooding Pebble Beach 2014- 1965 Ferrari 275 GTB Long Nose Alloy body was sold for US$ 4.620.000.
RM Sotheby, Monterey 2014- 1967 Ferrari 275 GTB4 (chassis 10621) previously owned by Steve McQueen was sold for US$ 10.175.000
Bonhams Scottsdale 2015 - 1966 Ferrari 275 GTB Competizione (chassis 09079) ex Scuderia Filipinetti class winner at Le Mans 24 Hours (1967 edition), Spa 1000 km or Imola 500 km, was sold for US $ 9.405.000.- The car is one of the twelve 275 GTB Competizione.

Gooding Pebble Beach 2017- 1965 Ferrari 275 GTB with competition features was sold for US$ 2.585.000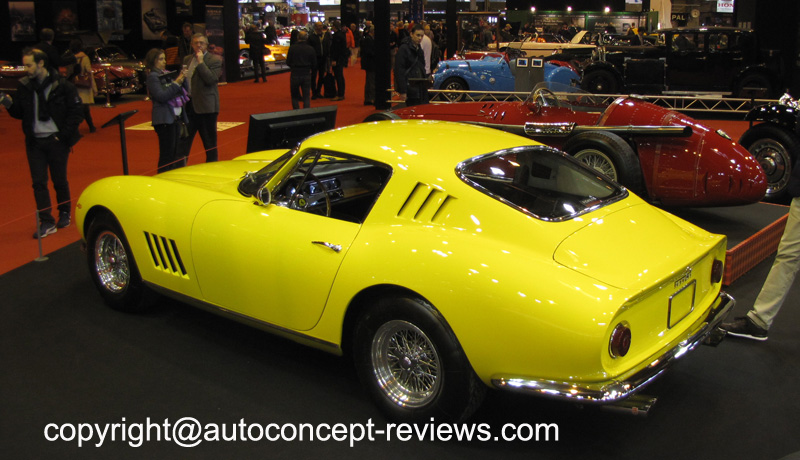 Gooding Pebble Beach 2017 - 1966 Ferrari 275 GTB Competizione was sold for US$ 14.520.000. One of twelve 275 GTB-C built.

Gooding Scottsdale 2018 - 1965 Ferrari 275 GTB Speciale, the Personal car of Battista Pininfarina was sold for US$ 8.085.000. The car was exhibited at Paris, Turin, Frankfurt and Brussels Motor Show at the time.
P. Damiens- Sources- Ferrari 275 GTB4 Design Analysis -Autocar, February 2nd 1967
Le Mans Official History 1960-69-Quenting Spurring
Bonhams, Gooding and Co, RM Sotheby.
Wallpapers
Ferrari 275 GTB and GTB4 road and track versions 1964-1968

(click on image to enlarge)
Ferrari 275 GTB and GTB4 road and track versions 1964-1968

: Related articles