Alfa Romeo Giulietta Sprint Zagato-SVZ-SZ-Coda-Tonda-Coda-Tronca-1957-1962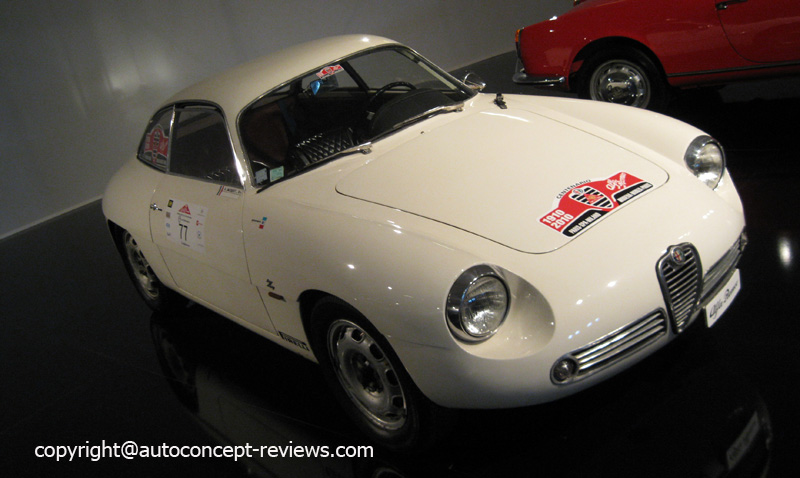 Alfa Romeo Giulietta Sprint Zagato Coda Tonda
Alfa Romeo had achieved its image of one of the world's greatest Prewar car thanks to the 6C1750 Grand Sport of the Twenties and the 8C2300 of the Thirties, which won the 24 Hours of Le Mans no less than four times (1931,1932,1933,1934). After all that had come to a halt during WW2, big efforts were made in the immediate Postwar years to resurrect the Prewar image of the marque. Winning the World Championship in 1950 (Farina at the wheel of the Alfetta 158) and the 1951 (Fangio at the wheel of the Alfetta 159) gave enormous boost to put Alfa Romeo on the maps for the Fifties.
Their first newly developed car after the war was the Alfa Romeo 1900 which was first shown to the public in 1950. It was Alfa Romeo 's first car to be built on a production line which enabled them to produce a much higher number of cfars.With the economy recovering only slowly, this relatively large and expensive automobile still struggled to find many buyers. The need for a smaller, less expensive car was desperately needed.
Alfa Romeo Giulietta Sprint Coupe 1954 by Bertone
Alfa Romeo Giulietta Sprint Coupe 1961 by Bertone
Alfa Romeo Giulietta Berlina 1955 and Miss Italia
Alfa Romeo Giulietta Spider 1955 by Pininfarina
The Alfa Romeo Giulietta was developed to do just that, and the Giulietta Sprint, a beautiful Coupé by Carrozzeria Bertone, was first shown to the public at the Turin Auto Show 1954. Shortly after in 1955 followed the 4-door Giulietta Berlina and the beautiful spider proposed by Pininfarina on shorter wheelbase. All Giulietta were powered by a highly sophisticated and rev happy twin-cam 1290 cc. 4-cylinder engine in various states of tune. Indeed, the Alfa Romeo Giulietta became a tremendous success, and with a total of nearly 177.000 produced vehicles it saved Alfa Romeo from bankruptcy.
Of the many Giulietta customers only a select few were lucky enough to acquire a Giulietta Sprint in the extremely sporty Veloce version of which only some 3058 examples were produced between 1956 and 1962. The Veloce variant distinguished itself through twin Weber carburettors, a higyh compression ratio, different camshafts, a special high performance air intake box and a finned high performance oil sump. The result was 90 hp which combine"d with a weight of a little over 890 kg made it one of the fastest road cars of the Fifties (top speed 180 kph). Some 200 Alfa Romeo Giulietta Sprint Veloce Allegerita were even produced for racing purpose with light alloy body panels and sliding Plexiglass side windows for 70 kg weight saving over the standard Sprint Veloce.
| | |
| --- | --- |
| | |
| Alfa Romeo Giulietta Sprint Speciale by Bertone | Alfa Romeo Giulietta Berlina Ti |
The qualities of the standard Giulietta model (road holding, manoeuvrability, effective brakes, excellent engine, good comfort) were an excellent basis when in 1957 Alfa Romeo cooperated with Bertone to create the Alfa Romeo Sprint Speciale , featuring extravagant styling by Franco Scglione, a sporty interior and 5-speed transmission with a weight of 860 kg. It is estimated that no more than 1,366 Sprint Speciales were produced between 1957 and 1962, in both Giulietta and larger-engined Giulia form.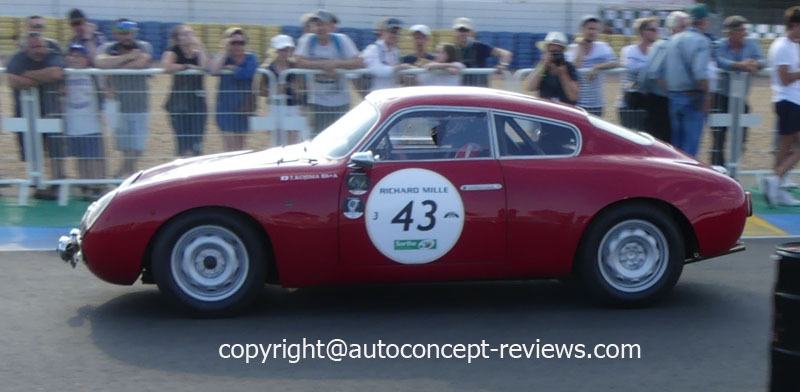 Alfa Romeo Giulietta Sprint Veloce Zagato SVZ at Classic Le Mans event (Photos Philippe Girardon)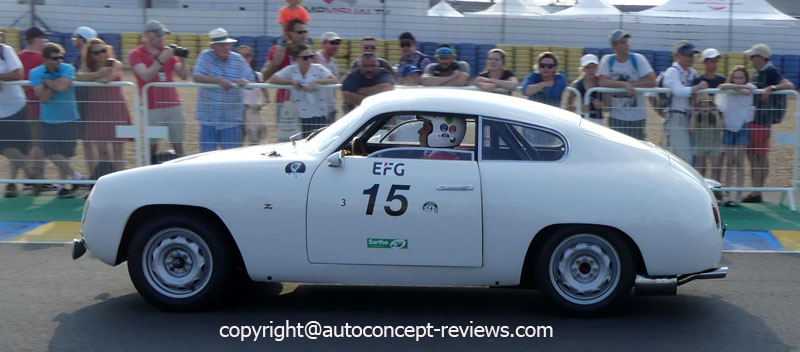 The Alfa Romeo Giulietta Sprint Speciale with shorter wheelbase and 100 hp engine was often raced in various events. Massimo Girolamo Leto di Priolo was a gentleman racer who entered his Giulietta Sprint Speciale in the 1957 Mille Miglia where it crashed severely essentially destroying the bodywork; rather than getting the car repaired to the factory standards, Leto di Priolo had the remain taken to Carrozzeria Zagato who cut the wrecked panels off the platform and built a new body in its place.
Alfa Romeo Giulietta Sprint Veloce Zagato SVZ 1957 exhibit Lukas Huni Retromobile 2020
With a more aerodynamic shape and an alloy body weighing over 100 kg less than the steel panelled factory car, this Sprint Veloce Zagato coupe was soon racing up a string of victories. It did not take long for his fellows competitors to take notice and even with quite high cost some 18 Alfa Romeo Giulietta Sprint Veloce Zagato -SVZ- were completed.
Instant success by the SVZ on the racetracks, with a top speed of nearly 200 kph, demonstrated the superiority of this variant over the standard production cars. A fact that was not not ignored by Alfa Romeo who as a result introduced the Zagato as an official model in 1961 called the Giulietta Sprint Zagato (SZ) Coda Tonda a slightly modified version of the SVZ. 217 Alfa Romeo Giulietta Sprint Zagato Coda Tonda were produced. between 1960 and 1962.
Alfa Romeo Giulietta Sprint Zagato (SZ) Coda Tonda 1961 exhibit Lukas Huni Retromobile 2020
Elio Zagato, owner of Carrozzeria Zagato, was himself a race driver and regularly competed in the various events in Italy. He had taken good note of some international Test Reports whereby the SZ Coda Tonda had not quite reached the promised 200 kph top speed. As a consequence he made substantial modifications to his own SZ making it 4 cm lower and 14 cm longer combined with a square tail rear arrangement which resulted in a top speed of 225 kph and a victory in the Grand Prix Grand Tourisme at Monza on June 29th 1961. Hence was born the Sprint Zagato Coda Tronca which replaced the Coda Tonda variant.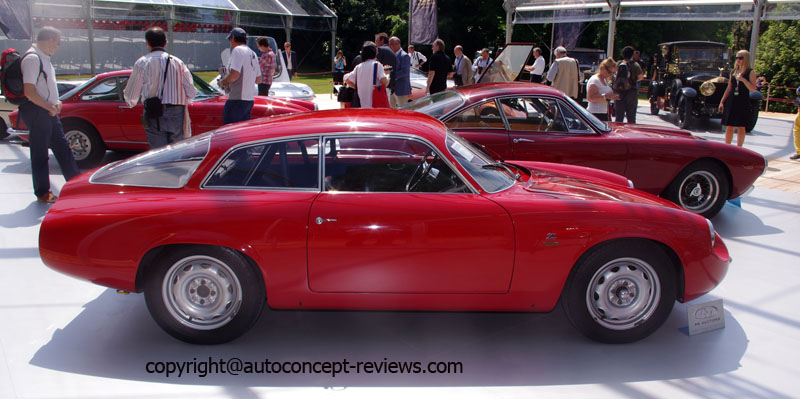 Alfa Romeo Giulietta Sprint Zagato (SZ) Coda Tronca at Villa Erba RM Auction
With only 200 examples built, the Alfa Romeo Sprint Zagato (SZ) is a very rare car indeed, particularly in "Coda Tronca" long tail form, of which only 30 cars were ever built.

In 2012, one 1958 Alfa Romeo Giulietta Sprint Veloce Zagato was sold for Euros 414,400 at RM Sotheby Monaco Auction Sale.
In 2012, one 1960 Alfa Romeo Giulietta Sprint Zagato Coda Tonda was sold for Euros 257,600 at RM Auction Sale in Monaco.
In 2017 one 1962 Alfa Romeo SZ II Coda Tronca by Zagato was sold for US$ 379,500 at RM Sotheby Arizona Auction Sale.
In 2018, one 1956 Alfa Romeo Giulietta Sprint Veloce Allegerita was sold for Euros 214,560 at Artcurial Auction Sale at Retromobile Paris.
In 2018, one 1957 Alfa Romeo Giulietta Sprint Veloce Allegerita was sold for US$ 350,000 at RM Sotheby Auction Sale at Monterey California.
In 2020, one Alfa Romeo Giulietta Sprint Zagato Coda Tonda was sold for US 550,000 at RM Sotheby Auction in Monterey Private Sale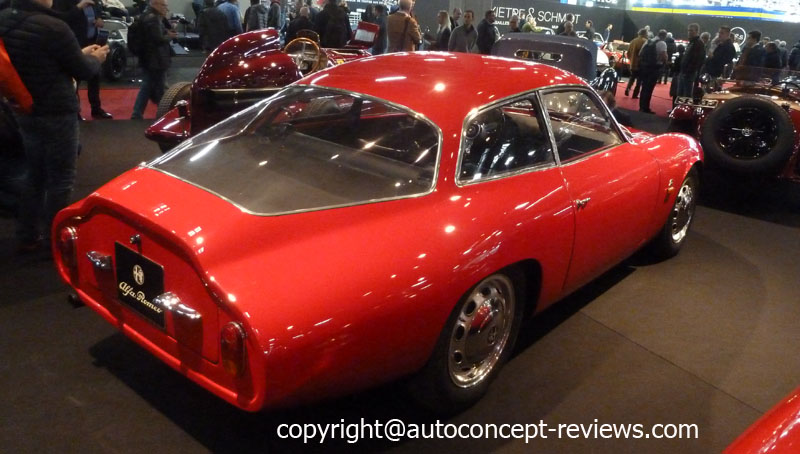 Alfa Romeo Giulietta Sprint Zagato (SZ) Coda Tronca exhibit Lukas Huni at Retromobile 2020
Source Lukas Huni Retromobile 2020, RM Sotheby Archives, Bonhams Archives, Artcurial Archives, Alfa Romeo Media Archives Photos Philippe Girardon P. Damiens Alfa Romeo Media Archives
Wallpapers of the
Alfa Romeo Giulietta Sprint Zagato-SVZ-SZ-Coda-Tonda-Coda-Tronca-1957-1962

click on picture to enlarge